While everyone's attention on haute couture, I have a few more words on pre-fall. Do not argue about pre-fall's irrelevance or significance. It's like resort, the same case, not that important but fun to care for, that's sure.
Celine
. Has my biggest regard of pre-fall stuffs. You know, Phoebe Philo mixed everything she found: the facetious Harris and Shetland tweeds (what the designer calls "modern urban camouflage"), the discolights of silver trousers, the uproarious refreshed military, the leopard/leather pair's hooker senses, the stony businesswoman's stiffness, and the old lady's timeless foxfur. Definitely the best collection for september, if pre-fall means this period. Whatever pre-fall means.
Maison Martin Margiela
. THE COATS. There's nothing more to say. "Bimaterials (the typically Margielan—or let's say Maisonian, since the Maître has left the building—practice of juxtaposing two fabrics or materials on top of or adjacent to one another)." It's really an inimitable trick just like a Jean Eugène Robert-Houdin one.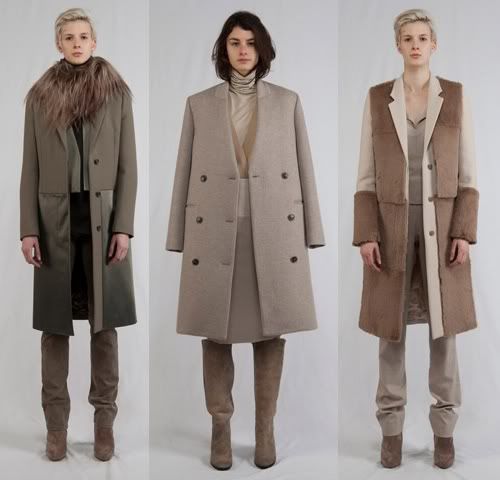 Reem Acra
. I'm not this evening-dress and cocktail-dress liker kind of. But hey, look at these. Beautiful. Classic. Peafowl. Nebula. A more radical version of The Little Mermaid - for adults, or a costume for Elizabeth Taylor in Cleopatra (1963). That's how (and where) I imagine these.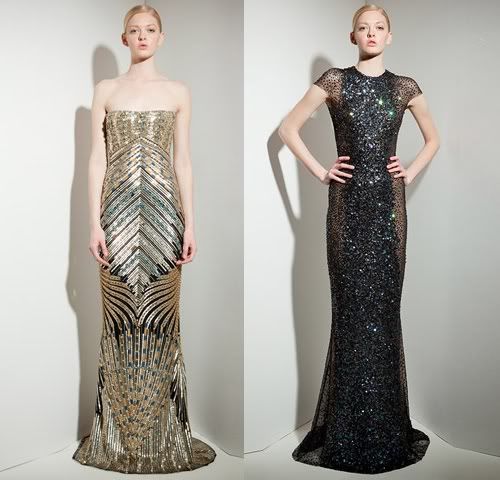 Rochas
. So Oliver Twist, so 1800s - with the heavy flats and boyish, wide trousers. The other resemblance is Charlie Chaplin. No? That's why I like this collection, doesn't hold on to effeminacy phrases. Wide, mannish trousers, astrakhan caps and ankle socks remind me to Fellini-characters, Italian neorealism, a bit of circus world, clowns especially. You know what? I want to wear these to school, to party, to dream! Perfect to cut a dush.
Antonio Marras
. Reeeeeally something for your grandma, right, that's what you think now? Honey, be honest! But hey, following the
witchy vibes
of last fall, this is a perfect continue. (I hate the hair.)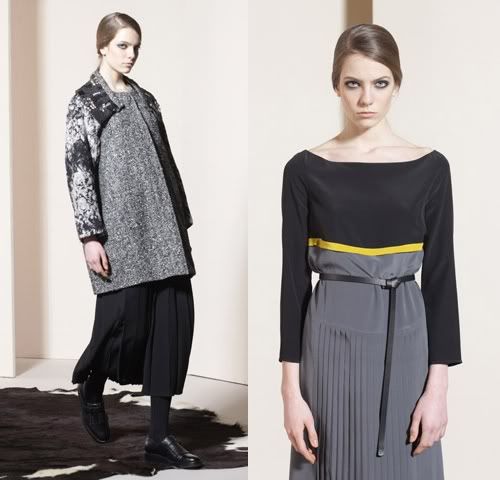 Pre-Fall 2011:
Celine
,
Maison Martin Margiela
,
Reem Acra
,
Rochas
,
Antonio Marras
. Photos from style.com, selected and edited by me.
Pre-Fall sounds fancy, right? (part 1)
HERE
!