Three accessories which I wear nowadays. There's a ring in my neck with its own story and I haven't take it off since a year now, later I gonna show it. Here are two watches and a bracelet, which are special in their design and in my heart, too.
Három kiegészítő, amit mostanában hordok. Van egy gyűrű a nyakamban, aminek megvan a maga története, és azt kb. már egy éve nem vettem le, később megmutatom. A mostani 3 kiegészítő két óra és egy karkötő, amik kivitelezésükben és a szívemben is különlegesek.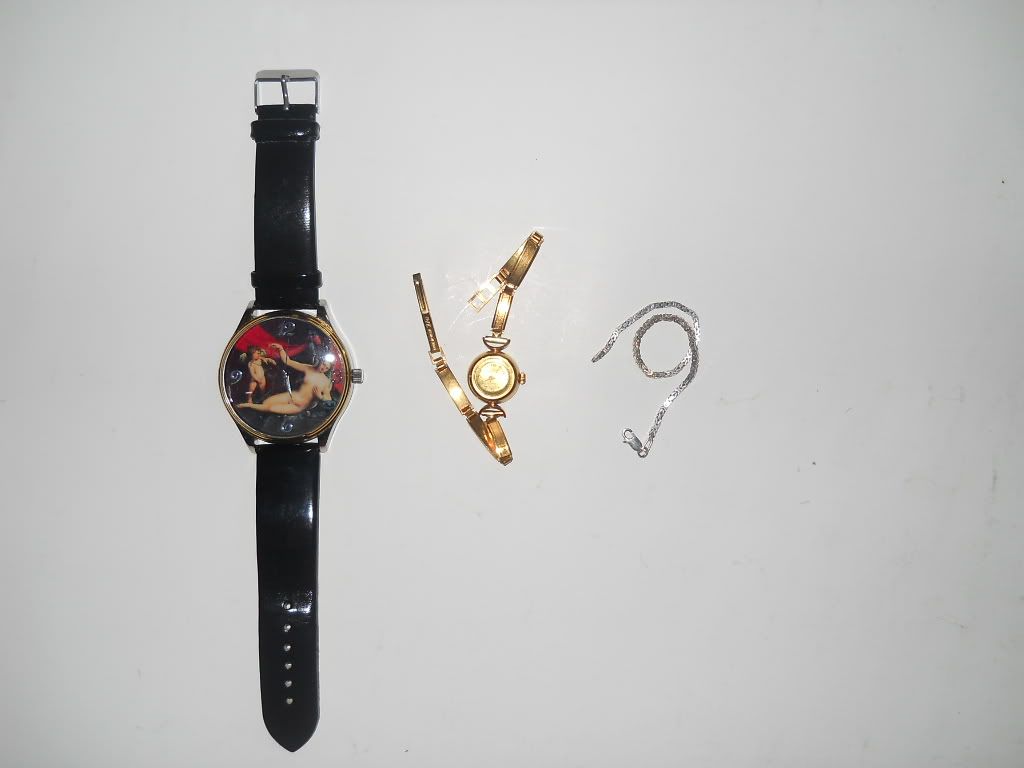 WATCH 1: CUPIDO & VENUS
The first one is this Cupido and Venus watch which was made by Lorenzo Lotto's famous painting, whereat the little nice Cupido is gracing Venus... The clockface is gold-rounded, outside it's silver and steel, the watch band is black enamel. I have bought this watch this spring at Kecskemét, Hungary and I haven't seen similar anywhere, on anybody. It's very obtrusive, everyone peer at it and got many compliments. I really love it because it's so unequaled. And of course I have to confess it's very cool to talk big with a nude woman on my wrist...
Az első ez a Cupido és Vénusz óra, ami Lorenzo Lotto híres festménye alapján készült, amin a kedves kis Cupido épp megtiszteli Vénuszt... A számlap körbe arany, kívül pedig ezüst illetve acél, az óraszíj fekete lakk. Az órát még tavasszal vettem Kecskeméten, és azóta sem láttam hasonlót sehol, senkin. Igen feltűnő darab, mindenki megbámulja és már jó néhány bókot kapott. Nagyon szeretem, pont amiatt, hogy ennyire egyedülálló. Meg hát azért valljuk be, elég menő egy pucér nővel villogni a csuklómon...
Lorenzo Lotto: Venus et Cupido, around 1525.
WATCH 2: GOLDRUSH
My other favourit is this soviet Zaria watch. (Made in USSR.) Compact gold and I've inherited from my mother, it is about 25-30 years old. The only one fault it's not running but as a jewel it works wonderful.
A másik mostani kedvencem ez a szovjet Zaria óra. (Made in USSR.) Tömör arany, és anyukámtól örököltem, úgyhogy lehet körülbelül 25-30 éves. Az egyetlen szépséghibája, hogy nem jár, de ettől függetlenül ékszerként csodálatosan funkcionál.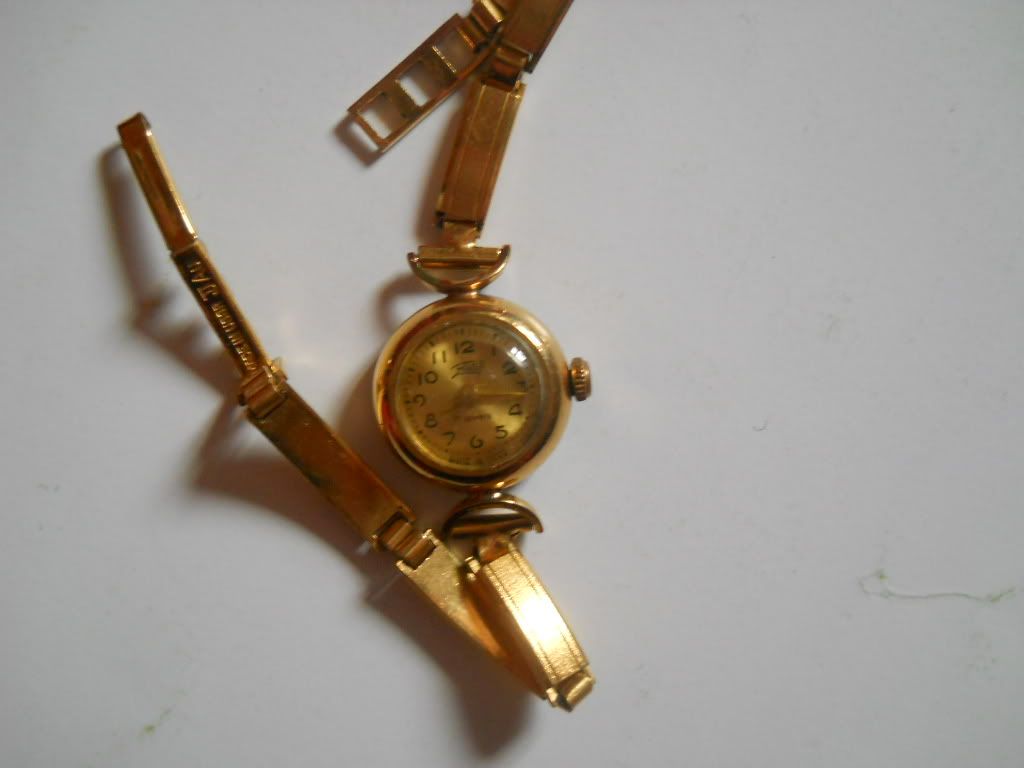 This is an Italian silver bracelet what I got from my boyfriend to my birthday this year. I love it because it's elegant and dynamic in the same time. It's fine and like a
Keith Haring
painting, pop-art.
Egy olasz ezüst karkötő, amit a barátomtól kaptam idén a születésnapomra. Azért szeretem, mert egyszerre elegáns és dinamikus. Finom és olyan, akár egy Keith Haring festmény, pop-art.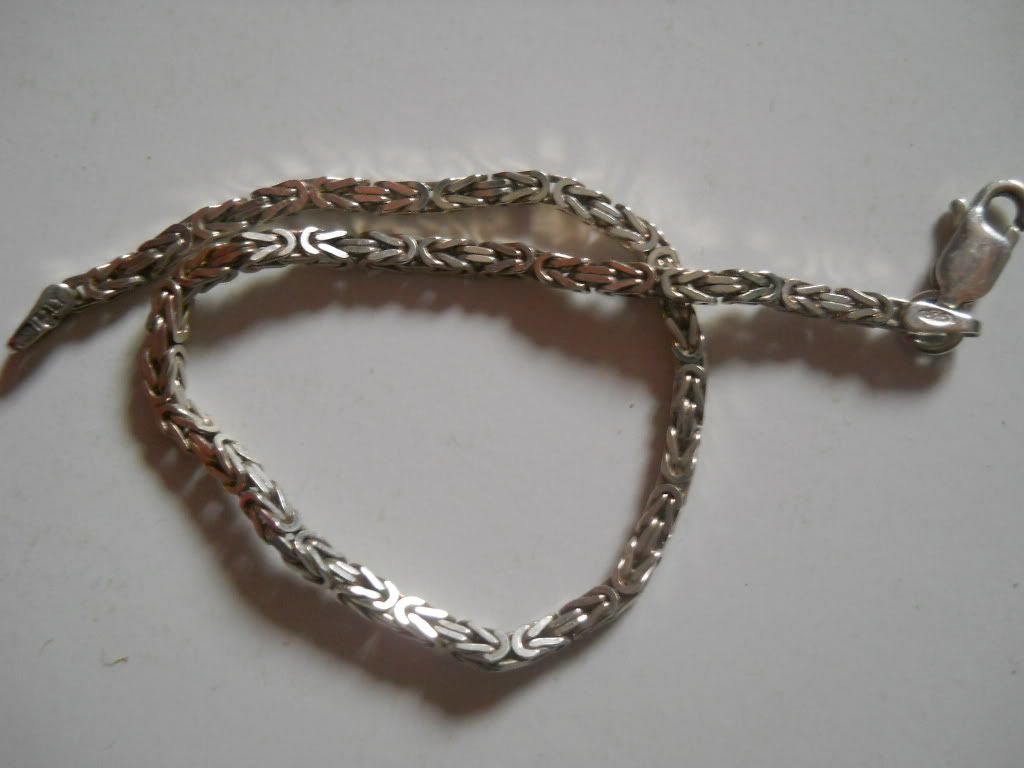 Not long ago in the editorial of the hungarian Elle magazine I was watching a
Philippe Ferrandis
crown on Eniko Mihalik's head, and I felt I have to snoop around for its creator. Philippe Ferrandis is a French designer of jewellery and accessories who makes his works from the finest materials, in the highest quality. Couture designers, like Balmain, Oscar de la Renta, Jean Louis Scherrer, Escada or Chanel all ask him to accessorize their fashion shows. No wonder if he makes that beautiful jewels like this
necklace with Swarovski crystals
, or this
Frog with crown
ring.
Nemrégen a magyar Elle divatanyagában, Mihalik Enikő fején nézegettem egy Philippe Ferrandis koronát, és egyszer csak késztetést éreztem arra, hogy alkotója után szaglásszak egy kicsit.Philippe Ferrandis egy francia ékszer és kiegészítő tervező, aki munkáit a legnemesebb anyagokból, a legjobb minőségben készíti. Olyan couture dizájnerek, mint Balmain, Oscar de la Renta, Jean Louis Scherrer, Escada vagy a Chanel is felkérték már, hogy ékszerezze fel divatshow-ikat. Nem csoda, ha olyan gyönyörű ékszereket készít, mint ez a Swarovski kristályokkal kirakott nyaklánc, vagy ez a koronát tartó béka gyűrű.