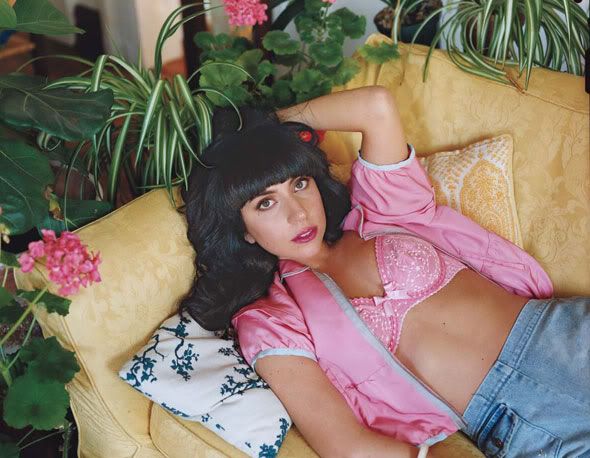 Listening to
Born This Way
by Lady Gaga. Here we are, a historical moment: I write an entire post about Lady Gaga on
Oui, Mademoiselle
. Wow. Ok, I tell you again, I don't hate her - my further feelings
here
- and I secretly dance and sing by Born This Way at lonely nights. Really. Actually this is not a secret anymore, DAMN.
When I talk about this song, the severance between the music and the
official video
is a must.
The music
. Of course at first I heard only the audio and it was a love at first hearing. This gay-pride-feeling, this drifting energy, this catchy tune, this heaped musical kitsch is so confusing and so addictive. It seems so familiar and at the same time so dissimilar, a song we were suspenseful waiting for long since. For me, this old photo of Gaga represents the mood of not being "a drag, just being a queen" (and this is my favourite photo of her, too). The music definitely reminds me of the series
Queer as folk
and the nights when I secretly watched it in the living room in undertones that my parents and my little brother could not hear the dirty sounds. Actually this is not a secret anymore, oh no, DAMN... AGAIN. The fool I am.
I guess Born This Way will be my spring-anthem.
The video
. When I started to watch this 7:20 minutes long "short movie" - wondering along the 2:30 minutes long
prologue
I thought:
- Man, this woman is some kinda genius! A freak one. Cool.
(Even if that EYE on her chin is awfully ridiculous.) And when she walked in at 2:30 in that black bikini, I thought:
- Oh, NO!!! You ruined everything, idiot b*tch.
You know, it's totally boring to dance in a black bikini with some background dancers... hey, I expected more of you, Lady Gaga. We all expected more of you. It's so Alejandro, so uninteresting, so trivial. By the way I think if she'd wear more clothes on herself she was more extraordinary. From 2:30 to 6:43 I was f*cking bored, even with the Thierry Mugler inspirated skeleton make-ups. Is that normal in the case of a Gaga video? Is she tired? What's up, Gaga? The most beautiful part is in the end from 6:43 - this is the closest to that visualization I imagined this song will "look" like. My biggest problem is -and maybe it's strange to hear by me but - the whole conception is too dark. This is a powerful, vivacious song... I wanted colours, a lot of colours, smiles - I risk to say - happy people, not suffering ones. Something different, something ALIVE. Something like the
Movie Star
video by Róisín Murphy. This video is a disappointment.
Dear Gaga, I love your song but I'll avoid your video for a long long time.
Sources: Lady Gaga
via
, Justin as an angel in
Queer as Folk
, stills from
Born This Way