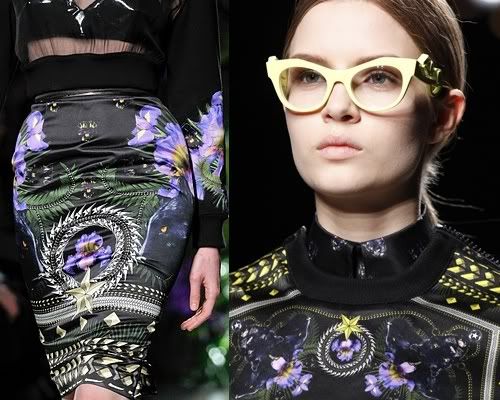 Starting the parsing of fall collections with
Givenchy
seems an
in medias res
inception. A hard one. Currently I listen to klezmer music, the
album
of Andy Statman & Zev Feldman from 1977, and it helps me much to imagine this whole area. As you may get used to my assay-habits, you know I won't really talk about materials or give detailed pattern featuring. I rather imagine the circumstances this all may exists in.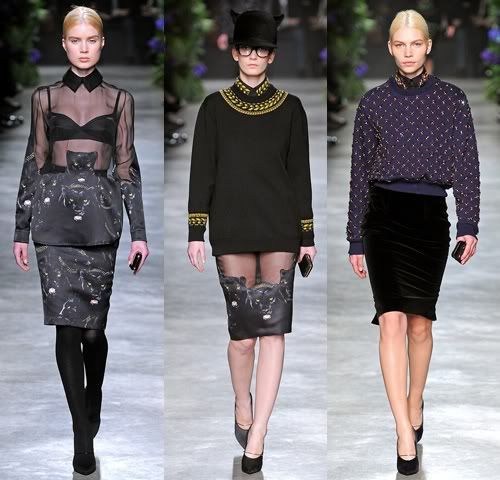 Mixing black panthers, pin-up girls (Bettie Page mainly), jungle vibrations, "purple orchid prints, black patent, see-through organza, Gianni Versace-in-the-eighties silks", baseball caps, cat-ears, holy wreaths and hooker cuts makes Givenchy so vivid and sprawling. Black panther's roar. (Animal motifs are pretty modish this year, so bring out your childhood's garment or your little sibling's.)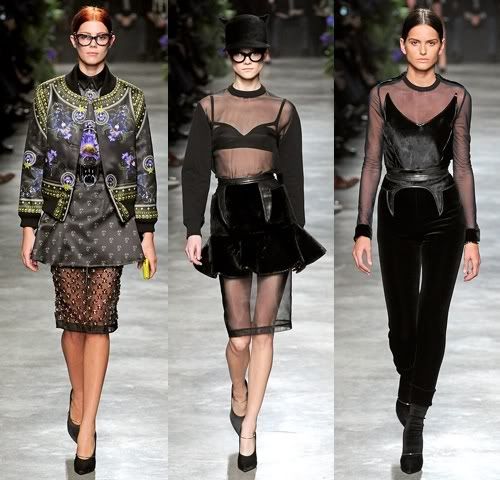 The main line of bearing in my mind was a movie title like THE HOOKER WITH JUNGLE FEVER. Or The Jungle Days of a Hooker. (Which one do you prefer?) Really, my next script will be about the adventures of
Masha
, the Holy Hooker who - after a plane crash - gets lost somewhere in South America and become the protagonist of
Henri Rousseau
's paintings. Ah, Jesus, what a story!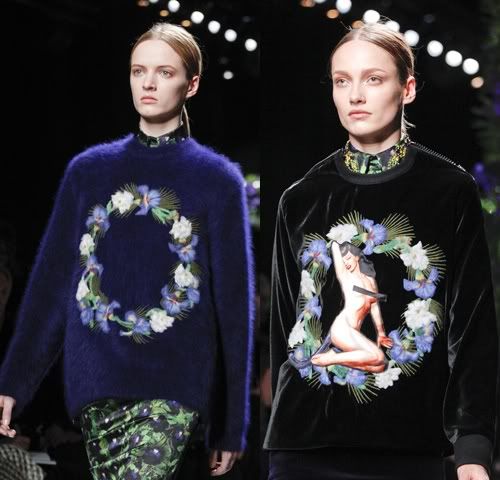 Back to Givenchy. (So hard, you know, I've totally empathized myself into this epic tale, huh.) Stop joking, this is serious business. This collection is like a neon-version of catholic baroque ornamentation with a twist of wilder, feral sultriness and lust. Only for urban beasts. Of course, this is
For Your Pleasure
! Definitely MYSTICAL.
Givenchy
Fall 2011
, photos via style.com. More about Givenchy
couture
, and
labels
.