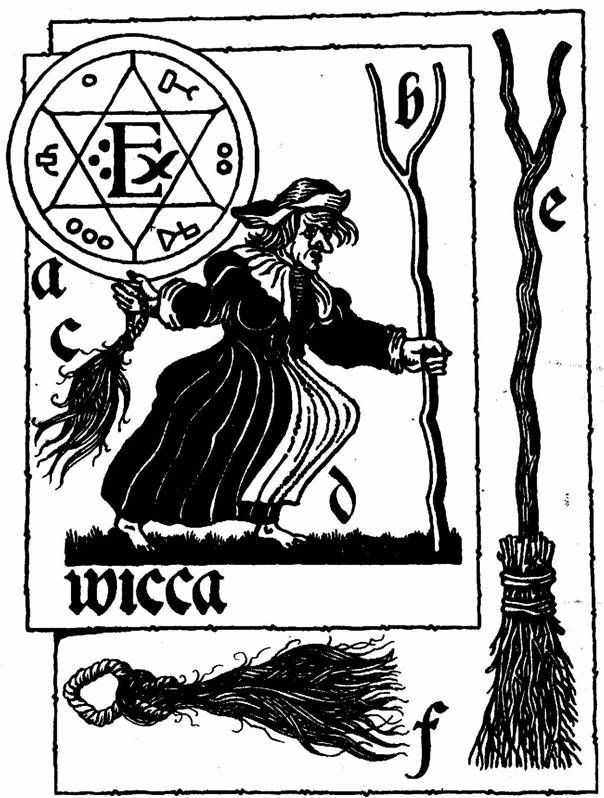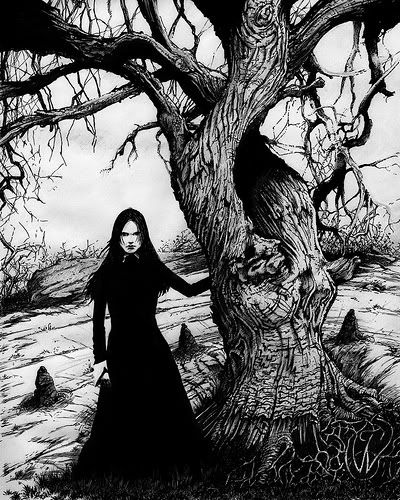 Around the blogosphere the most frequent word nowdays is "Witchy Vibez". Raw and pagan. As I tried to do a deep research in the theme, to seek the connection between witches and fashion, I have found so many interesting stuffs that you bet it's only the Part One. I've devised a theory, I guess. After I uploaded these pictures, totally accidentally I discovered that witchy styles can be devided of two sorts. Let's see.
A blogszíntéren leggyakrabban fellelhető szó mostanában a "Witchy Vibez" (körülbelül annyit tesz, hogy Boszorkányos Vibrálás, tükörfordításban nem annyira, de egyébként lehet értelmezni). Nyers és pogány. Ahogy igyekeztem mélyre ásni a témában, a divat és a boszorkányok közötti összefüggést keresve, annyi kihagyhatatlan dologra bukkantam, hogy biztosra vehetitek, ez csak az Első Rész. Kidolgoztam egy elméletet, mondjuk így. Miután feltöltöttem ezeket a képeket, teljesen véletlenül felfedeztem, hogy a boszorkányos stílusokat kétféle irányzatra lehet osztani. Lássuk.
The classic
. English-village, Salem, witch burnings. These ideas are associated with the classic, evil and dark witch's image. The
Wicked Witch of The West
with her quirky hat, ugly face, spiky dirty nails, vicious laugh, ramshackle broom and floor lenght black veil is a real stereotype. A bit more exaggeratedly but
Luella
Bartley fastened on this line in her 2008 fall collection. Puff-sleeved peasant blouses, twisted-felt witchy hats, short smoke-gray coats, high-heeled clogs, black lipsticks, pale faces and even the multicolored ribbons showed the new, 21. century rendition of the 18. century witch, insisting on the wicca-cliches and basic pieces.
A klasszikus. Angolszász kis falu, Salem, boszorkányégetés. Ezek a képek társulnak a klasszikus, gonosz és sötét boszorkány képéhez. A Nyugati Boszorkány cikornyás kalapjával, csúf arcával, hegyesre csiszolt koszos körmeivel, gonosz kacajával, rozoga seprűjével és földig érő fekete lepel ruhájával egy igazi sztereotípia. Kicsit szélsőségesebben ugyan, de ezt a vonalat ragadta meg Luella Bartley a 2008-as őszi kollekciójában. A buggyos ujjú blúzok, csavart boszorkánykalapok, rövid füstszürke kabátok, a magassarkú klumpák, fekete rúzsok, sápadt arcok és a színes egymásra tűzdelt szalagok is egy 18. századi boszorkány új, 21. századi interpretációját mutatták, de ragaszkodva a wicca-klisékhez és alapdarabokhoz.
Haxan: Witchcraft Through The Ages, Black Mass
Directed & written by Benjamin Christiensen.
The 1922 Swedish/Danish silent film "Haxan" depicting the Black Mass.
There's a similar situation in the case of
The Craft
, a movie from 1996. The classic witch outfit is transplanted to a very tipical ninties clothing, spiced with some high-school-uniform styling. Andrew Fleming puts the black magic into the scene of tipical american teen movies, so due to the contrasts, the story and the visual is very operable. So what does characterize the
classic
witch? Voodoo, tarot, maledictions, curses, wickedness, the shades, et cetera. The point is, we know she's a witch, brings out she's evil, she creates herself ugly and dark willfully, and tries to perform scare and dread. Exactly this is what she differs from the
other
kind of witch.
Hasonló a helyzet a Bűvölet című 1996-os film esetében. Klasszikus boszorkány outfit átültetve egy nagyon a kilencvenes évekre jellemző ruhatárra, némi gimis-egyenruhás fűszerezéssel. Andrew Fleming a fekete mágiát belehelyezi a tipikus amerikai tinifilmek helyszínébe, így a kontrasztok miatt, a történet és a képi világ is nagyon működőképes. Mi is jellemzi végül is a klasszikus boszorkányt? Voodoo, tarot, átkok, rontások, gonoszság, túlvilág, satöbbi. A lényeg az, tudjuk róla, hogy boszorkány, világossá teszi számunkra, hogy gonosz, szándékosan csúfnak és sötétnek alkotja meg magát, igyekszik rémületet és viszolygást produkálni. Pontosan ez az, amiben eltér a boszorkányok másik fajtájától.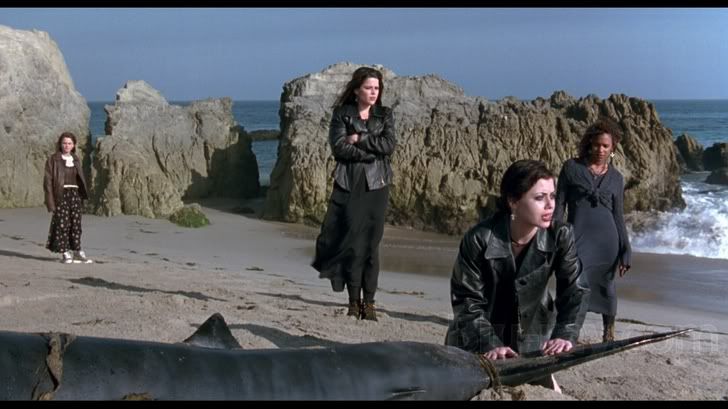 Before we get on, a little curiosity. The French
Vogue
in the September issue of 2007 with the leading of Carine Roitfeld and with the clothes of Alexander McQueen has made this "Devil Worship" editorial. The photographer was Terry Richardson. A scaled gold
suit of armour
and the pentagram. In this editorial sexualty and innocence is mixed with the trance, the voodoo, the wicca and the satanism.
Sacrément Inspirée
.
Még mielőtt tovább mennénk, egy kis kitekintés. A francia Vogue 2007-es szeptemberi számában Carine Roitfeld vezetésével és Alexander McQueen ruháival készült ez a "Gonosz-imádó" editorial. A fotós Terry Richardson. Pikkelyes arany páncélruha és a pentagram. Ebben a fotósorozatban a szexualitás és ártatlanság keveredik a transszal, a vodooval, a wiccával és a sátánizmussal. Sacrément Inspirée.
The modern
. Hocus pocus. The new wicca, the modern, the delusive. The witch, to whom the biggest weapon is the scam. Harmless, beautiful and nice, the most dangerous kind. A carnivore spider, she's luring and seducing her credulous opponent, and after she laced the victim up in her net, no turn back, the ruthless magic campaign has started. A vulpine minded, cruel vamp. She does not concot stenchy decoctions (leastways not in public), she's practising more elegant methods, like the rune or the literary styled cursing. She tortures not by anger but for pleasure. Intelligent, charming and modern. Like
The Witches of Eastwick
.
A modern. Hókusz pókusz. Az új wicca, a modern, a csalfa. A boszorkány, akinek legnagyobb fegyvere az átverés. Ártatlan, gyönyörű és kedves, a legveszélyesebb fajta. Egy húsevő dög, odacsalja és elcsábítja hiszékeny ellenfelét, aztán miután áldozatát befűzte hálójába, nincs visszaút, a könyörtelen mágiahadjárat elkezdődött. Furfangos eszű, kegyetlen vamp. Nem kotyvaszt bűzölgő főzeteket (legalábbis nem publikusan), inkább a ráolvasás, a szemmel verés, vagy az irodalmi stílusú átokszórás elegánsabb módszereit alkalmazza. Nem dühből kínoz, hanem szórakozásból. Intelligens, bájos és modern. Akár Az eastwicki boszorkányok.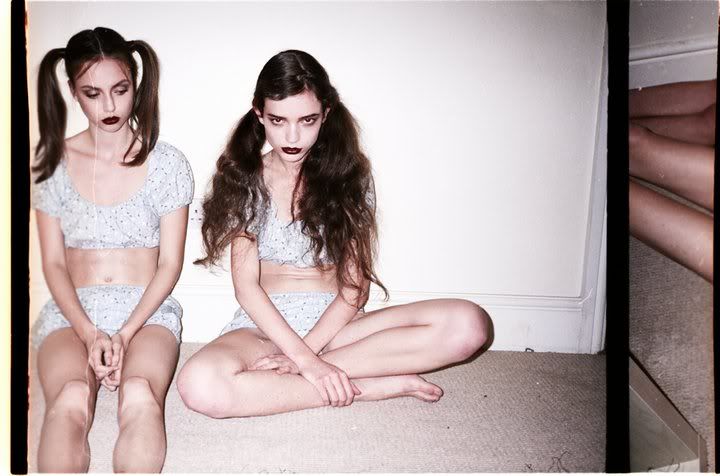 Betsey Johnson - even if she wasn't ispirated by witches - presented the modern wicca's taste collection in the fall of 2008. Who said that a black magic maker can wear only black? Everything fits from the girly style through Marla Singer's black fur coat to the white skulled/white stocking rebel teenager apparel. And it seems the puckered hair is a basic requirement and the most oldskool part of the wicca trend.
Part Two is coming soon.
Betsey Johnson - bár nem boszorkányok inspirálták - 2008 őszén egy modern wicca ízléséhez méltó módon passzoló kollekciót mutatott be. Ki mondta, hogy a fekete mágia művelője csak feketében járhat? A kislányos stílustól Marla Singer fekete bundáján keresztül a fehér koponyás/fehér harisnyás lázadó tinédzserig minden belefér. A kreppelt haj pedig úgy tűnik, szinte alapvető követelmény és a wicca trend egyik legoldskoolabb eleme.
A Második Rész hamarosan következik.