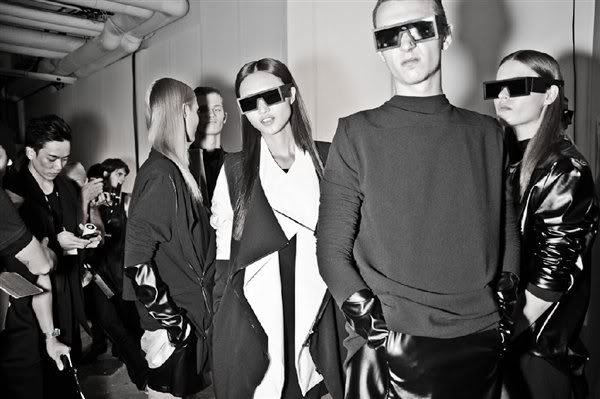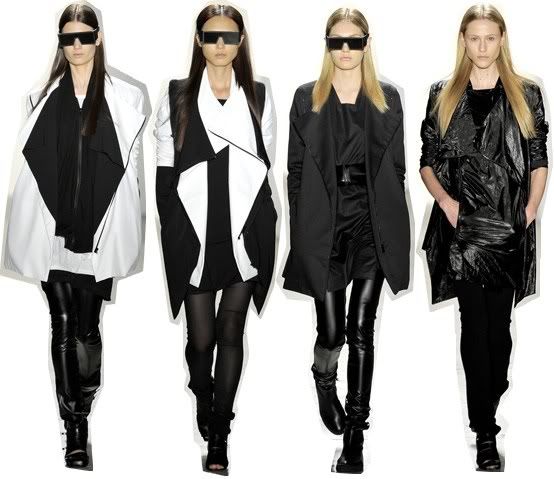 You know, that black and white stuff. Yes. The master of unisex, symmetrical and zippered clothes is, no doubt,
Rad Hourani
. The difference between this and
last year
's collection is the white colour. As I'm getting older, I become even more the man of excesses. I need everything to be minimalist or chock-ful. Rad Hourani or Meadham Kirchhoff. Leather, PVC, neoprene. Our grandchildren will dress like these in some decades, and they'll be feminine-masculine twins. I have no words for the sunglasses. They're epic.
Tudod, a fekete és fehér téma. Igen. Az unisex, szimmetrikus és cipzározott ruhák mestere, kétség kívül, Rad Hourani. A különbség ez és a tavalyi kollekció között a fehér szín behozatala. Ahogy egyre idősebb leszek, egyre inkább a végletek embere vagyok. Minden legyen vagy minimalista vagy túlzsúfolt. Rad Hourani vagy Meadham Kirchhoff. Bőr, PVC, neoprén. Az unokáink így öltöznek majd néhány évtized múlva, és feminin-maszkulin ikrek lesznek. Nem mondok semmit a napszemüvegekre. Epikusak.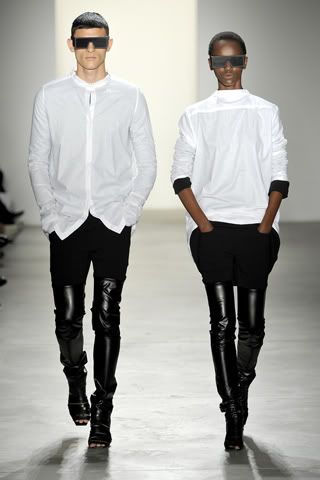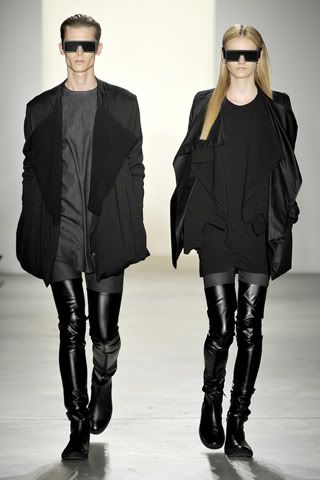 RAD by Rad Hourani
Spring 2011
Well, the judgment has not indisputable yet. The court is going to decide later that the
defendant
who appeared here will be convicted or voted with an agreement
yes
. I can not decide it is ugly or I need it much. The danger is I feel inclined to the
I need it much
way, and I guess the battle will turn out in minutes. Of course I'm talking about the Rad Hourani's
collaboration with Aldo
shoes. Three, two, one. The question has brought. HERE to me with it.
Nos, a döntés egyelőre nem vitathatatlan. A bíróság később dönt róla, hogy a jelen megjelenő vádlottat elítéli vagy egyezményes igent szavaz meg neki. Nem tudom eldönteni, hogy csúnya vagy nagyon kell. A veszély az, hogy egyre inkább hajlok a nagyon kell irányába, és úgy érzem a csata perceken belül eldől. Természetesen a Rad Hourani és az Aldo kollaborálásából született cipőkről beszélek. Három, kettő, egy. A kérdés eldőlt. IDE vele.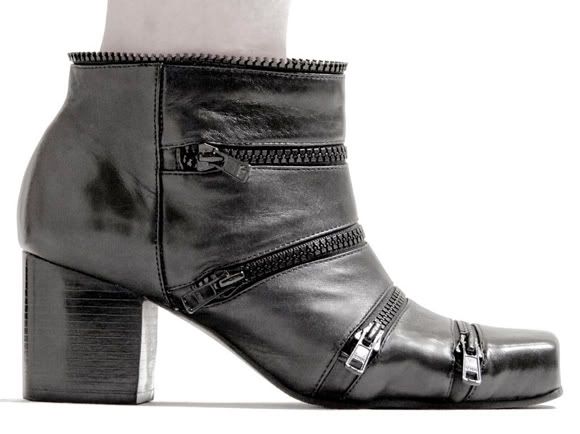 dazeddigital.com, style.com, fashionmagazine.com, photos selected and edited by me