Well, at last here's the report about friday, about the
2ManyBloggas4: Well-Designed
party. I wanted to write it formerly but - to be quite frank - I didn't know, how to. The evening hasn't happened as I'd wanted. As it were, not at all. And I had to digest it in myself, think how to represent it, what to do with this, how to work it off. Right, it's not that baleful, don't worry, actually I was just lazy.
Nos, végre itt van a beszámoló a péntek estéről, a 2ManyBloggas4: Well-Designed buliról. Már korábban szerettem volna megírni, de - őszinte leszek - nem tudtam, hogyan. Nem igazán úgy alakult az este, ahogy szerettem volna. Mondhatni, egyáltalán nem. És (igen, nyelvtani hiba) kicsit meg kellett emésztenem magamban, hogyan tálaljam, mit kezdjek a dologgal, hogyan dolgozzam fel. Jó, azért ennyire nem vészes a helyzet, nem kell megijedni, igazából csak lusta voltam.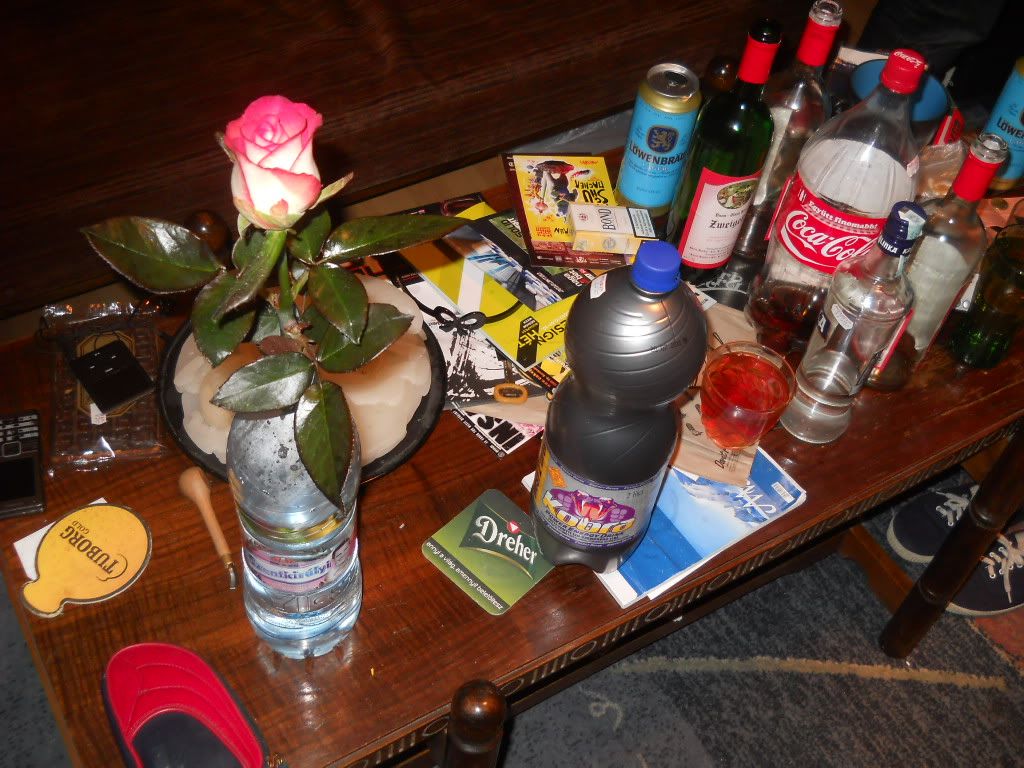 Right at the start. We met at my friend's flat, drinking, sorting of clothes, etc, I guess this is a familiar situation to all of you, unnecessary to detail. (Oh, I got the rose, and I message from here,
two days
.) At quarter to twelve we were thinking to call a taxi, I shouldda been there by midnight, because they talk about the blog and start to screen the videos. Okay. We got into the taxi. I was about a status like
Courage the Cowardly Dog
- wobbling on the edge of the healthy exitement and the sickly paranoia. I explain it right. We get there, midnight passed. I guess I missed the speech.
Kezdem az elején. A barátnőmék lakásán találkozunk, iszogatás, ruhaválogatás, estébé, ismerős a szitu mindenkinek, felesleges részletezni. (Ja, a rózsát én kaptam, és innen üzenem, hogy két nap.) Háromnegyed tizenkettőkor még azon filóztunk, talán taxit kéne hívni, éjfélre nem ártana ott lennem, mert elvileg beszélnek a blogról, és elkezdik a videókat vetíteni. Jó. Bepattantunk a taxiba. Körülbelül olyan állapotban voltam, mint Bátor, a félénk kutya - az egészséges izgalom és a beteges paranoia peremén ingadozva. Ezt mindjárt kifejtem. Odaértünk, éjfél elmúlt. A beszédről azt hiszem, lemaradtam.
In the whole night that was almost the
cool
est part when passed by the long long long row, we stand into the door and I could say, "I'm a contributor", and they let us in. This was a good feeling cause I know if I'm in the row and somebody
just walks in
without any tormentful waiting, I turn up my nose so that's why it felt so good. I know I'm evil and malevolent and I guess behind they really really hated us. Never mind.
About the video. I won't lie, I created this on only one afternoon, and it's like that. I won't explain myself it's amateur and inchoate, but it's mine. The conception was I wanted to show through some hungarian designer's websites what's their online world like. I did not want to display the photos or the structure of the page, I just wanted to adumbrate something and to bring the viewers to click. I don't know if it happened or not.
Az egész estében majdnem az volt a legcoolabb rész, amikor a kilométeres sor mellett elhaladva, beálltunk az ajtóba és azt mondhattam, "közreműködő vagyok", és simán beengedtek minket. Ez csak azért volt jó érzés, mert tudom, hogy ha én állok a sorban, és valaki csak úgy bemegy mindenféle kínlódásokkal teli várakozás nélkül, nagyon felhúzom magam, és ezért ez most különösen jól esett. Tudom, hogy gonosz és kárörvendő vagyok és valószínűleg a mögöttünk jövők nagyon utáltak minket. Na mindegy.
A videóról. Nem hazudok, egyetlen délután alatt raktam össze, olyan is lett. Nem fogok magyarázkodni, amatőr és kezdetleges, de az enyém. A koncepció az volt, hogy néhány magyar tervező honlapján keresztül megmutatni, hogy milyen well-designed a hazai tervezői gárda online világa. A célom nem az volt, hogy megmutassam a fotókat vagy konkrétan az oldal szerkezetét, hanem sokkal inkább az, hogy sejtessek valamit és ezzel rávegyem a videó nézőit arra, hogy kattintsanak. Nem tudom ez mennyire jött össze.
▲ So, continue the story. We walked in, walked up, my video was running. I became terrible excited. Then, as I was watching my video on the wall, the sickly, self-bespattering paranoia was coming upon me, and there was that one thought in my mind that what I made is a piece of sh*t and I want them to stop playing it IMMEDIATELY and I want nobody watch it again. Of course it was played several times. So posteriorly I guess I overreacted it. Two days later, I got an e-mail from one of the designers from the video and he said, it was super.
I don't know what to think. At the party after watching my video several times, I stood there and wanted to go away, so we went home, watched
Dracula
by Francis Ford Coppola, and ate popcorn.
It was kinda strange, while my video was running on the wall - as a backgound of the party -, and some watched, nobody knew its editor stands there, what she feels, and nobody was interested really, that you are this person, and you want to screeam, hey people, or I don't know, anything. I felt myself I'm the girl who wasn't there.
I captured a little part as the video was played at the party, it has a different impact, and the music doesn't Format: B what I added to it originally. (Of course I knew it before it won't be.) (On the beamer there's my previous header image, above Position.)
▲ Szóval, folytatom a sztorit. Bementünk, felmentünk, a videóm már ment. Iszonyatosan izgatott lettem. Aztán, ahogy a nagy falon néztem a videóm, egyre inkább rám tört a beteges, önpocskondiázó paranoia, és ezek után már csak az az egy gondolat keringett a fejemben, hogy amit csináltam az egy kalap sz*r, és azt akarom, hogy AZONNAL levegyék a falról, és senki ne lássa többet. Persze jó sokszor leadták még. Így utólag, lehet kicsit túlreagáltam. Két nappal később, kaptam az egyik tervezőtől, akinek az oldala szerepelt a videómban egy e-mailt, azt írta szuper volt.
Nem tudom, hogy mit gondoljak. Miután párszor levetítették, csak álltam és el szerettem volna jönni, úgyhogy így is lett, hazataxiztunk, megnéztük Francis Ford Coppolától a Drakulát és popcornt ettünk.
Olyan furcsa volt az egész, miközben az óriás kivetítőn ment a videóm - hát mint háttere a bulinak -, és néhányan nézték, senki nem tudta, hogy a készítője ott áll, és mit érez most, nem is igazán érdekelt ez senkit, hogy te vagy az, és te most azt szeretnéd ordítani, hogy hé emberek, vagy mit tudom én, akármit. Úgy éreztem magam, mint a lány, aki igazából ott sincs. Na mindegy.
Levideóztam egy kis részt, ahogy a buliban játszották, egész más a hatása, mint kicsiben, és a zene sem a Format: B volt, amit eredetileg hozzá raktam. (Persze ezzel tisztában voltam előtte is.) (A kivetítőn ott az előző fejlécem, a Position felett.)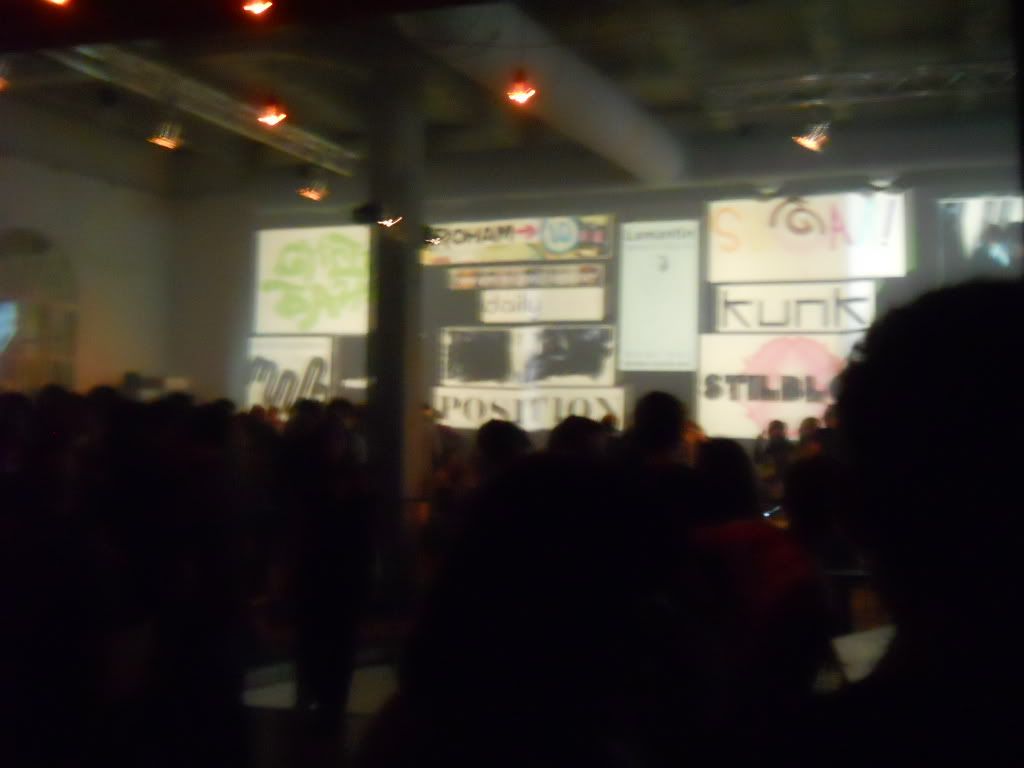 On the whole, after all at this distance of time I'm glad I was there. And thank you again Kunk-boys you honoured me with your confidence, I am grateful. The biggest lesson of the night: if you're a perfectionst, never give out from your hands a work what you're not sure for 200% in. Thank you all for coming, watching, reading.
Összességében, így pár nappal később, végül is örülök, hogy ott voltam. Innen is még egyszer köszönöm a Kunk-fiúknak, hogy megtiszteltek és bizalommal meghívtak, hálás vagyok érte. Végül is a legnagyobb tanulság az estéből: ha maximalista vagy, soha ne adj ki a kezedből olyan munkát, amiben nem vagy 200%-ig biztos. Köszönöm mindenkinek, aki eljött, megnézett, elolvasott.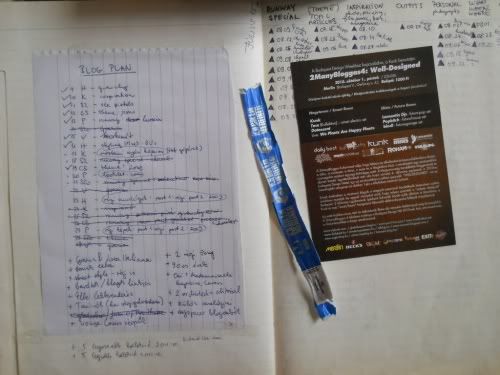 flickr
-
youtube