... is do not to fight with The Razor. And of course, you don't talk about fight club. The BCC, aka. the Bruise-Collector Company has officially received me as a member. What an honour. Seriously, the question is why we BCC-members are so proud of our blue-purple-green spots? The answer is complex. Maybe because they're tough. Maybe because bruises are the colour-switcher maps of our lifes, they help us to remember. Before I go way far with the philosophical tune, I say maybe we are simply perverts because while others try to hide them, we're exposing them pridefully like they were some imbibitioning tattoos. Total exhibitionism.
A Harcosok Klubjának első szabálya, hogy nem harcolsz A Borotvával. És persze, hogy nem beszélsz a harcosok klubjáról. Hivatalosan is maguk közé fogadott a ZGYT, azaz a Zúzódás-Gyűjtők Társasága. Micsoda megtiszteltetés. Komolyra fordítva a szót, vajon miért is vagyunk mi, ZGYT-tagok oly büszkék kék-lila-zöld foltjainkra? A válasz összetett. Talán, mert vagány. Talán, mert a zúzódások színváltó térképei életünknek, segítenek emlékezni. Még mielőtt túlságosan filozófikusra venném a hangnemet, egyszerűen talán csak perverzek vagyunk, hogy míg mások igyekeznek elrejteni, addig mi büszkén, mint egy felszívódó tetoválás, villogunk vele. Teljes exhibicionizmus.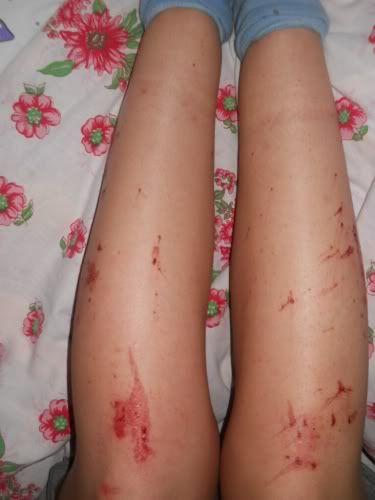 (I know these are not bruises, I know. Bruise pictures next time kids.)
Of course, it's not only about it. They're jewels. Why would somebody put on an earring or a nose ring if not by the reason of decorating or differentiation. So it's the same with us BCC-members in the cases of wounds, bruises, scars. I talk about these healing within 8 days, harmless bodily mutations. These have the beauty in their passing away. They don't affect our lifes, don't change us, they're liveable, lapsing marks. Marks from our lifes, ad hoc memories.
Persze nem csak erről van szó. Ékszerek. Mi másért rakatna valaki magára fülbevalót, vagy orrkarikát, ha nem a dekorálás, a megkülönböztetés miatt. Így vagyunk mi ZGYT-sek mindenféle sérüléssel, zúzódással, sebhellyel. Persze itt most csak ezekről a 8 napon belül gyógyuló, ártalmatlan testi változásokról beszélek. Mert ezeknek pont abban rejlik a szépségük, hogy elmúlnak. Nem befolyásolják életünket, nem tesznek mássá, elviselhető, elmúló jelek. Jelek az életünkből, ad hoc emlékek.
flickr