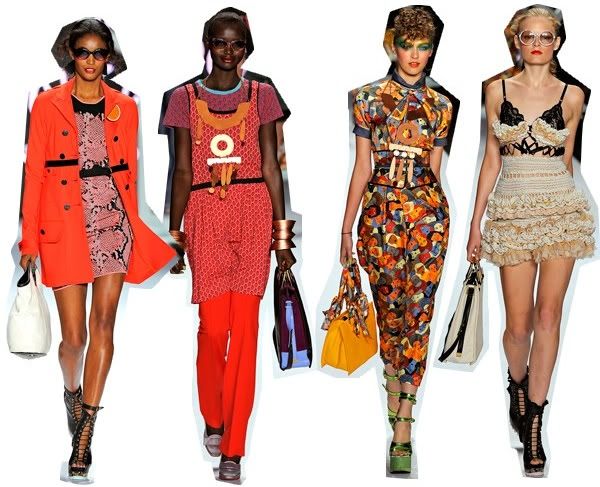 Reminds me of my childhood? Kindergarten? Hawaii? Pineapples, pears, strawberries, grapes, melons and bananas are gazing at us from the pieces of
Z Spoke by Zac Posen
collection, in some seablue eye-dye and cherryred (a petit catachresis) lipstick. This is not funny, this is the FUN. Urchin-dresses for amoeba-bodied madcaps, mummy pops off to the corner
We Love Vintage
little rummage shop. How comes Hawaii here? Mostly with the pineapples, I guess. Anyway I shall continue to wear my ducky, Mickey Mouse and other childhood t-shirts, hurray.
A gyerekkoromra emlékeztet? Óvoda? Hawaii? Ananászok, körték, eprek, szőlőszemek, dinnyék és banánok bámulnak ránk a Z Spoke by Zac Posen kollekció darabjairól, méghozzá igen komoly tengerkék szemfestékben és cseresznyepiros (kis képzavar) ajakrúzsban. Ez nem játékos, ez maga a JÁTÉK. Lurkódresszek amőbatestű vadócoknak, anyu kiruccant a sarki We Love Vintage kis turkiba. Hogy jön ide Hawaii? Leginkább az ananásszal, gondolom én. Mindenesetre továbbra is hordom a gyerekkori kacsás, Mickey Egeres és egyéb pólóimat, hurrá.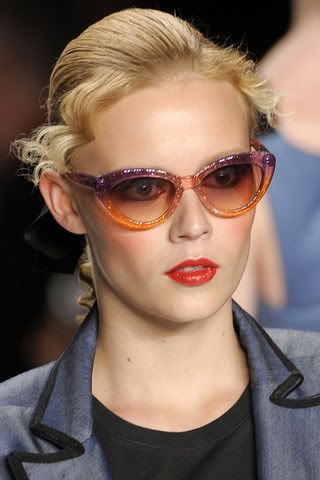 When I first saw these (sun)glasses, pardon me, but I almost pee in. This is the case of OMFG. And it's not just about that in the nineties, when I was a kid, we thought more and more shimmer dust makes us cooler, or that we liked all mutations of plastic-rubber-glittering-stuffs. You see, it is a work, a modernized fities cat-eye relic, a fits-on-me piece. So life's complete that I know this exists. Amen.
Amikor megláttam ezeket a szemüvegeket, hát bocsátsatok meg, de majdnem bepisiltem. Ez az OMFG esete. És itt nem csak arról van szó, hogy a kilencvenes években, amikor gyerek voltam, azt hittük, hogy a minél több és több csillámportól még menőbbek leszünk, vagy hogy bírtuk a műanyag-gumi-csillogó-izé mindenfajta mutációját. Ez kérem egy műtárgy, egy modernizált cat-eye ereklye az ötvenes évekből, egy rám való darab. Az életem ezennel teljes, a tudattal, hogy ez létezik. Ámen.
Which comic hero do we choose for the pair? Ideas? Some western-movie saloonkeeper's daughter is here, and the cartoon-y chic illustrations of Daisy de Villeneuve, and Steve Madden's
CAN'T MISSING SHOES
. "In the girltoilet they're amazed and admired at my new sunglasses, hah, they're green with envy. Fie, girls, do not yearning."
Melyik képregényhőst válasszuk párnak? Ötletek? Néhány western-film kocsmárosnő is megfordul itt, a rajzfilmszerűen sikkes Daisy de Villeneuve illusztrációi, és Steve Madden KIHAGYHATATLAN CIPŐI. "A lányvécében ámulnak és bámulnak az új napszemüvegemre, hah, majd megsárgulnak az irigységtől. Ejnye, lányok, ne szomorkodjatok."
Z Spoke by Zac Posen
Spring 2011
style.com and elle.com, photos selected and edited by me