A ballet inspirated post. The softest materials, the blandest colours, huge ruffles, tender furs, transparent tulles. It's not classical ballet style, it's the dancer's world through my eyes. When I was pretty young I used to listen classical music and was dancing around my room like a chic ballet dancer. I imagined their world how classy it is. One of my friends said to me that next to his flat there's the Ballet Institution and he use to see the dancers are coming to classes and he said they have That strange walking... So lovely. You know what else I absolutely love and at the same time envy in them? Their prime figure.
Egy balett inspirálta összeállítás. A leglágyabb anyagok, a legszelídebb színek, hatalmas fodrok, gyengéd szőrmék és az áttetsző tüll. Ez nem klasszikus balett stílus, inkább egy elképzelés a táncosok világáról. Amikor nagyon kicsi voltam, klasszikus zenét hallgattam és körbetáncoltam a szobát, mint egy sikkes balett táncos. Mindig elképzeltem milyen előkelő lehet a világuk. Az egyik barátom mesélte, hogy a Balett Intézet mellett lakik és szokta látni, ahogy a táncosok próbára igyekeznek, és hogy van Az a furcsa járásuk... Annyira bájos. És tudod még, mi az amit imádok és egyben irigylek is bennük? A tökéletes alakjuk.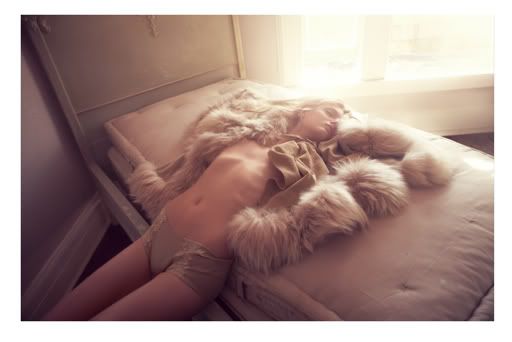 Doesn't she looks like a Dark Queen? In Maison Martin Margiela she has to win. Mrs Pope is the winner of contrasts: dark in her head, white in her heart. The Giorgio Armani Cosmetics top off the look with passion and realistic pulsation. Evil, innocence and desire meets in this portrait.
Hát nem olyan mint egy Sötét Királynő? Egy Maison Martin Margiela-ban persze mindenképp nyernie kell. Miszisz Pápa a kontrasztok győztese: rossz ül az ő gondolataiban, szépség leledzik az ő szívében. A Giorgio Armani Kozmetikumok tetőzik be a látványt, szenvedéllyel és élettel teli lüktetéssel. Gonoszság, ártatlanság és vágy találkozik Camilla Akrans portréján.
Chanel
. From the
Spring 2010 Couture
collection theese 4 costumes are my favourites. The first two are like goodies, they're waiting for to engorge and then sucking them. Ain't? The third reminds me of Audrey Hepburn, and I guess it's not accidental. Metallic glitter and wriggling tulles are friends at Chanel couture. The ideal dresses for a ballet dancer - on the stage or outside it.
Chanel. A Tavasz 2010 Couture kollekcióból ez a négy ruha a kedvencem. Az első kettő olyan mintha cukorkák lennének és csak arra várnának, hogy bekapjuk és szopogassuk őket. Hát de nem? A harmadik Audrey Hepburn-re emlékeztet, de gondolom ez nem véletlen. A metál csillogás és a tekergő tüll pedig jóbarátok a Chanel couture-ben. Az ideális viselet egy balett táncosnak - színpadon vagy azon kívül.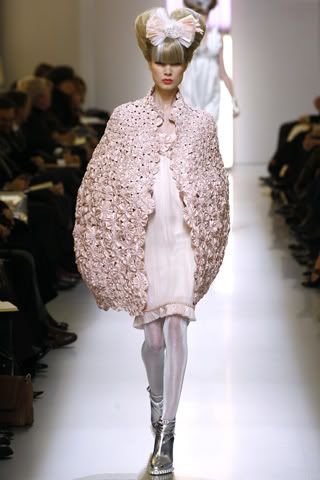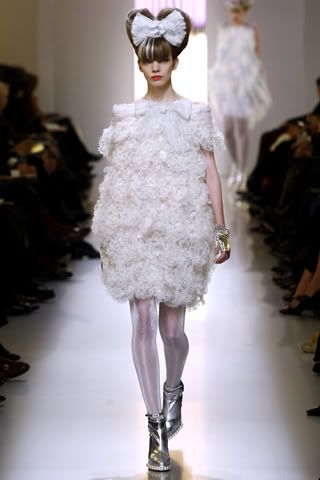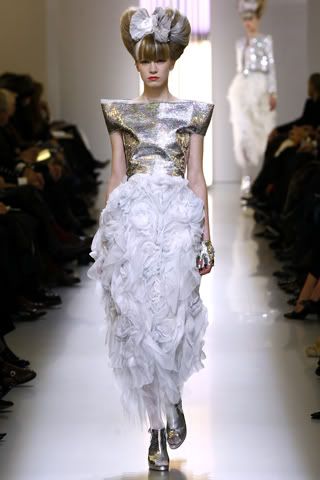 Go on to a "heavier" part. I mean heavier on the materials. Big, prolonged, ground-sweeping tails with plumes, pearls, or gems. Hard to wear them but it worth it. You can be cold as ice it gaves you royal appearance. Don't be shy to wear plumes, look rich and be prideful.
Térjünk rá a "nehezebb" tárgyra. A nehezebben az anyagok súlyát értem. Nagy, elnyúlt, földet seprő uszály tollakkal, gyöngyökkel, ékkövekkel. Nehéz viselni, de megéri. Olyan hideg lehetsz mint a jég, de a királyi megjelenés garantált. Ne legyél szégyenlős, viselj tollat, látszódj gazdagnak és legyél pökhendi.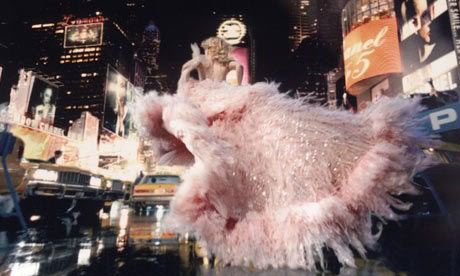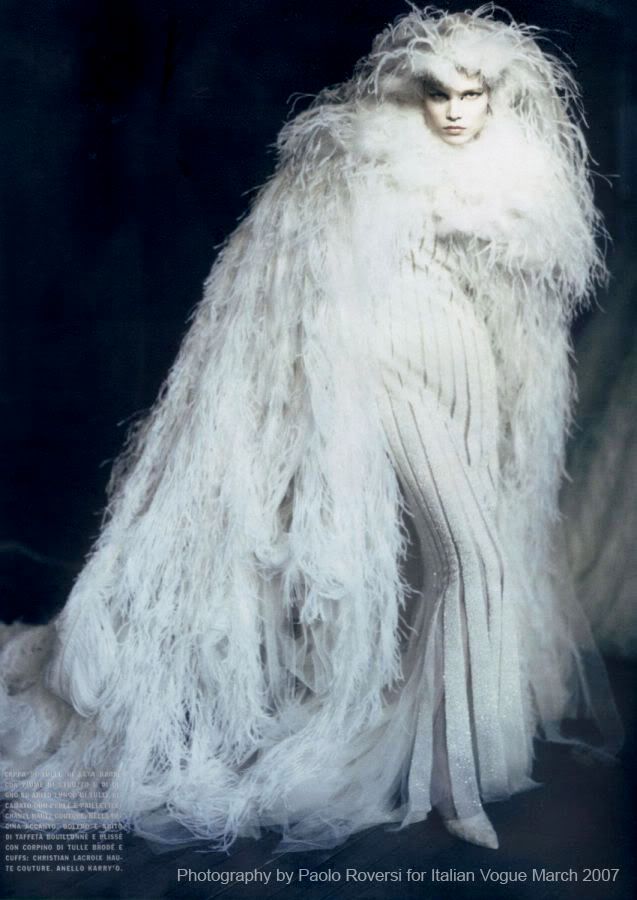 Let's go to a rehearsal. Girl, shake your leg in the rose tulle mantel by Luisa Beccaria. Dance yourself into a Fellini or a Bertolucci movie, and dance until you fall into a swoon.
Menjünk próbára. Táncolj Luisa Beccaria rózsás tüllben, táncold be magad egy Fellini vagy Bertolucci filmbe, és táncolj, amíg eszméletlenül nem rogysz le a padlóra.
My mom has a big picture-book about Henri de Toulouse-Lautrec's works and I was looking it often when I was a little girl and he has became one of my favourite painters. This painting by him is a new finding for me. It says everthying about ballet: the softness, the beauty, the simplicity and the struggling, too.
Az anyukámnak van egy nagy képeskönyve Henri de Toulouse-Lautrec munkásságáról, amit már kiskoromban is igen gyakran forgattam, így ő lett az egyik kedvenc festőm. Ennek ellenére ez a festmény egy újdonság volt számomra, egy új felfedezés. Úgy érzem, mindent kifejez, amit gondolok a balettről: a puhaságot, a szépséget, az egyszerűséget és a küzdést is.
Henri de Toulouse-Lautrec: Ballerina - The Firs Tutu 1890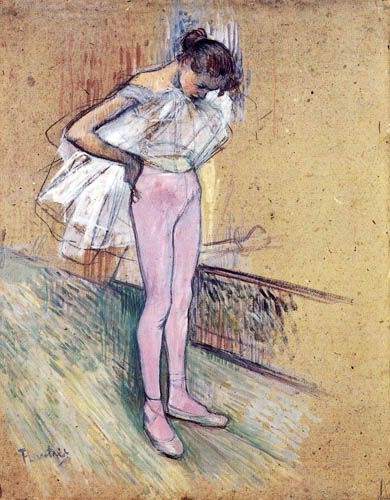 Boys are welcomed, too.
A fiúkat is szívesen látjuk.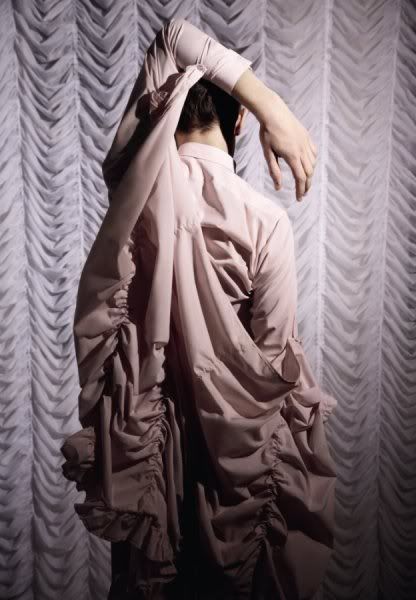 A dancer after a tiring performance? Yeah, Kate Moss before Juergen Teller's lens definitely looks like the embodiment of something unearthly airiness and delight. Like ballet.
Egy táncos a fárasztó előadás után? Igen, Kate Moss Juergen Teller lencséi előtt határozottan valamiféle megtestesítője a földöntúli könyedségnek és gyönyörnek. Pont, mint a balett.
Sources:
Camilla Akrans
for Vogue Japan,
Heidi Mount
by Paolo Roversi for Vogue Russia May 2010, Nicole Kidman in
Chanel No 5
ad by Baz Luhrmann, Paolo Roversi for Italian Vogue March 2007,
Karlie Kloss
by Dusan Reljin for Vogue Germany December 2008, Henri de Toulouse-Lautrec: Ballerina - The Firs Tutu 1890, boy in Dazed & Confused, Kate Moss by Juergen Teller