Star, galaxy and space images has been a big trend in the last two years. Occurent question, why? I think young people always need a new mania, or a symbol to follow. A
galaxy image
is not a usual emblem but it has a purport, leastways something is construe into it. Girls and boys are trying to seem cold, mysterious and unreachable and this characterization completely match to the space theories. Now I chose a few items to describe what this tendency means to me.
This is the most perfect and typical example for my words. A negative space image. This is a work by
Saara Lepokorpi
in her AW2011 collection. A baggy-sleeved white jacket with zippers, knitters and a negative galaxy. If I had to choose a piece of clothes for this trend, this would be that. Honesty I thought this trend is over soon but seems it reappears in 2011.
A csillag, galaxis és űr képek az elmúlt két évben nagy trendnek számítottak. Felmerül a kérdés, miért? Azt gondolom, a fiataloknak mindig kellett egy új mánia, vagy egy követhető szimbólum. Egy galaxisról szóló kép nem egy tipikus embléma, de meg van a maga jelentése, vagy legalábbis valami belemagyarázható. A fiúk és lányok próbálnak ridegnek, titokzatosnak és elérhetetlennek tűnni, ez a karakterizáció pedig teljesen megfelel az űrről alkotott teóriáinknak. Kiválasztottam néhány dolgot, hogy bemutassam, mit jelent számomra ez a tendencia.
Ez a legjobb és legtipikusabb példa arra, amiről beszéltem. Egy negatív űrnyomat. Ez a kabát Saara Lepokorpi munkája a 2011-es Őszi/Téli kollekciójából. Egy buggyos ujjú fehér dzseki cipzárakkal, kötőkkel és egy galaxis negatív képével. Ha választanom kéne egy ruhát ehhez a trendhez, ez lenne az. Őszintén szólva azt hittem, ez az irányzat hamarosan kifullad, de úgy tűnik, 2011-ben újra felbukkan.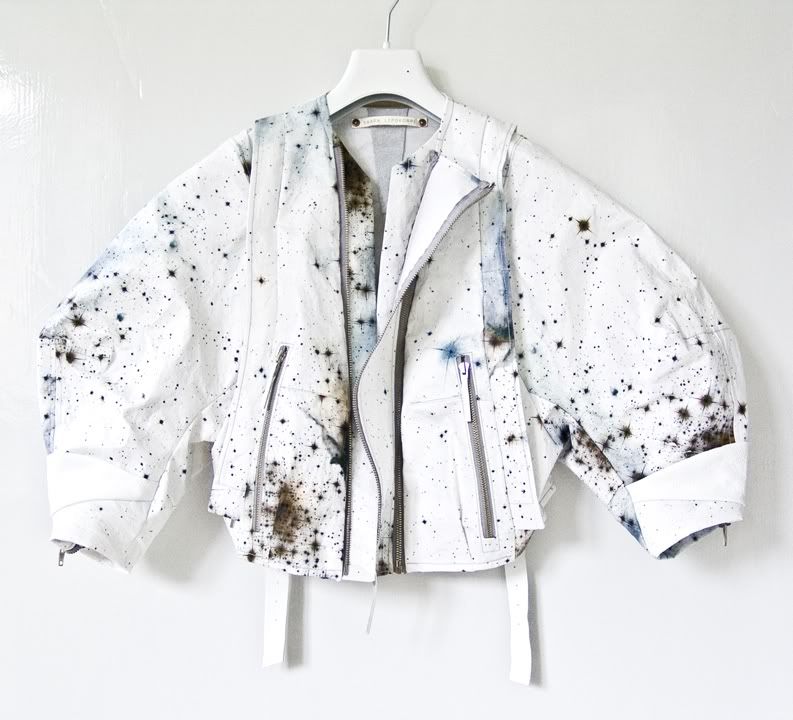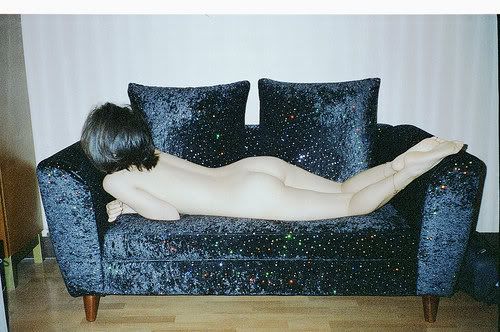 Nem tudok kedvenc "csillagos" képet választani, mert 1) nem láttam még az összeset 2) több száz van, ami tetszik. Mutatok most 3 Nasa fotót, amit imádok. A Meghatározhatatlan Medúza Csillagköd (itt lent), Tarantellapók Csápjai Csillagköd, és a Pompás Lófej Csillagköd. Mutasd meg neked melyik a kedvenced!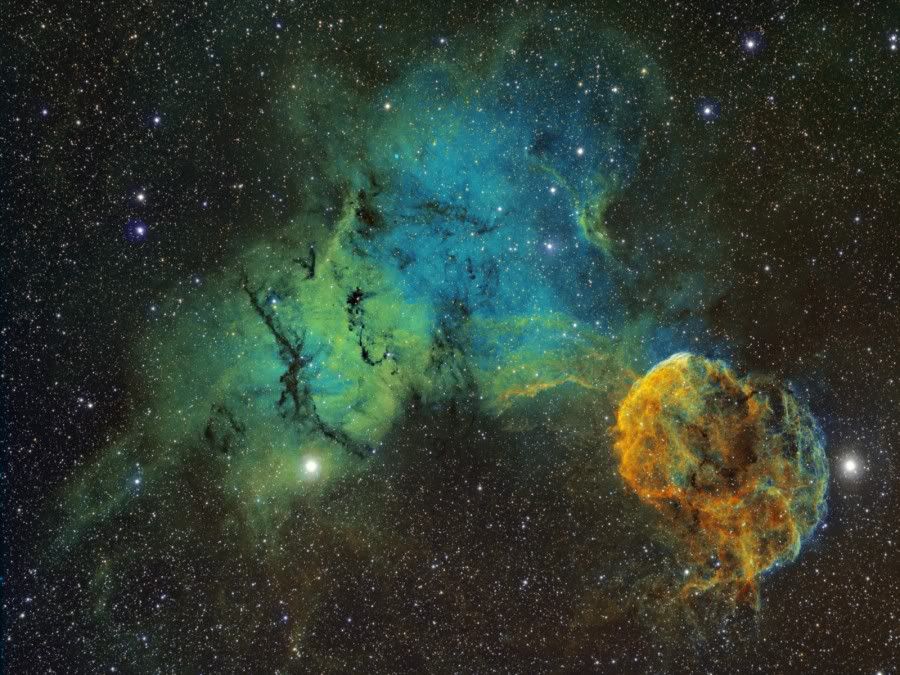 Alexander McQueen
✞ has always been my #1 favourite designer. In his
Spring 2010 RTW
collection there are theese "biological hybridization of women with sea mammals" dresses and "Alien-look" heels. So it's not tightly attach to this topic but in my interpretation it is extraterrestrial design so thus it could came from other alien worlds. Ufos and E.T.s should wear clothes like this if they'll come to Earth.
Alexander McQueen ✞ mindig az első számú kedvenc tervezőm volt. A 2010-es Tavaszi RTW kollekciójában vannak ezek a "nő és tengeri emlős biológiai keresztezése című" ruhák és "Alien-kinézetű" magassarkúk. Ez ugyan nem passzol szorosan a témámhoz, de saját értelmezésem szerint ez földönkívüli design, tehát más idegen világokból is származhat. Az ufóknak és ET-nek ezt kéne viselniük, amikor átruccannak a Földre.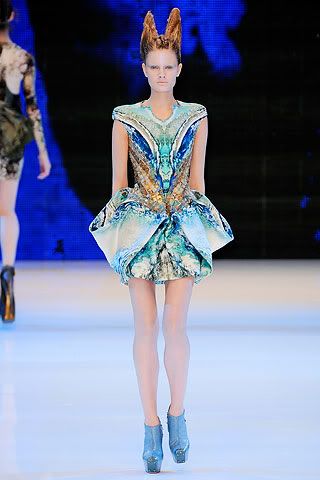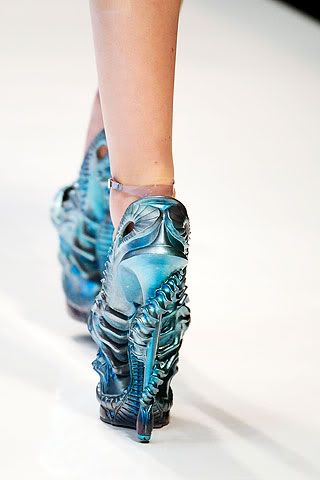 A kinda funny and well designed short video about cowboys in the Grand Canyon (or something) among empyrean ambience. I don't know what for or who made it exactly but it's way too cool.
Egy ilyen vicces és szépen kivitelezett rövid videó cowboyokról a Grand Canyon-ban (vagy hol) égi momentumokkal fűszerezett környezetben. Nem tudom, hogy miért és ki csinálta, de ahhoz túl kúl, hogy ne rakjam fel.
What kind of stone is this? I have no idea. Maybe a gift from space? It's like in fables the Magic Stone which has extraordinary power and the Good Kids use against the Dark Forces. Isn't it? Anyway I want my engagement ring from this. (Or I rather last at the gold +
emerald
combination.)
Miféle kő ez? Fogalmam sincs. Talán egy ajándék az űrből? Olyan, mint a mesékben a Varázskövek, amiknek különleges erejük van, és a Jó Kölykök használják a Gonosz Hatalom elpusztítására. De nem? Mindenesetre ebből akarom az eljegyzési gyűrűmet. (Vagy inkább maradok az arany és smaragd
kombinációnál.)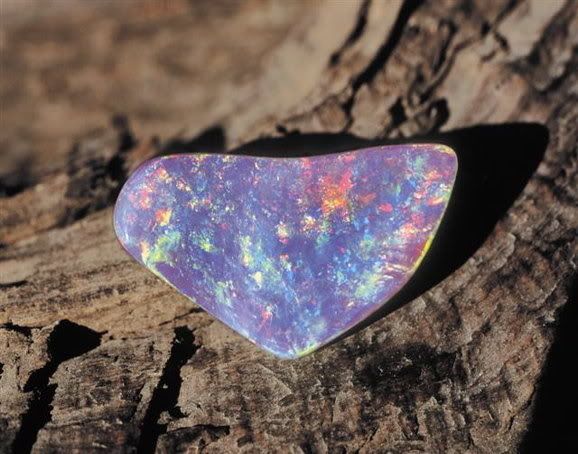 Clouds and Stars over Cotopaxi Volcano in Ecuador.
Uh, so I get here. What can a simple mind append to a perfection like this? Nothing.
Uh, szóval ideértem. Mit is fűzhetne egy egyszerű elme egy ilyen tökéletességhez? Nagyjából semmit.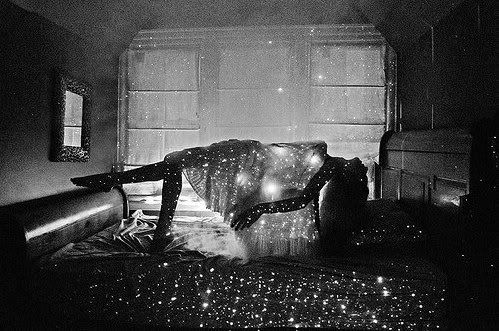 If we're talking about dress codes, mention what suits for a spacewalk: A WHITE DRESS. A white, tight, long-sleeved, long-stemmed dress like this one.
Sigourney Weaver
could wear it in
Alien Quadrilogy
. A perfect dress for alien-fights. (When I have found this photo it amazed me immediately and still now it is one of my favourite photographs. What a pity I know nothing about it. Help me!)
Ha már dress kódokról beszélünk, említsük meg, hogy mi illik egy űrsétához: EGY FEHÉR RUHA. Egy fehér, szoros, hosszú ujjú, hosszú szárú ruha, mint ez. Sigourney Weaver is viselhette volna az Alien Quadrológiában. Tökéletes viselet alien-harcokhoz. (Amikor megtaláltam ezt a fotót, rögtön lenyűgözött és a mai napig az egyik kedvenc fotográfiám. Annyira kár, hogy semmit nem tudok róla. Segítsetek!)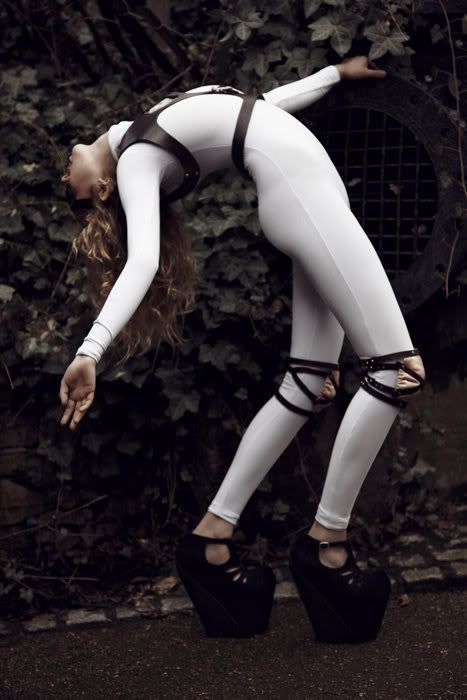 * Please somebody tell me who's the photographer!
Why astronaut girls wear those boring uniforms? Maybe they could choose a hip set-up from the australian fashion designer, Dion Lee's AW10 collection. Cold colours, geometrical lines, metal buckles. Simple, clean and swell.
Miért hordanak az asztronauta lányok olyan unalmas uniformisokat? Talán választhatnának maguknak egy menő összeállítást az ausztrál divattervező, Dion Lee 2010-es Őszi/Téli kollekciójából. Hideg színek, geometrikus vonalvezetés, fém csatok. Egyszerű, tiszta és klassz.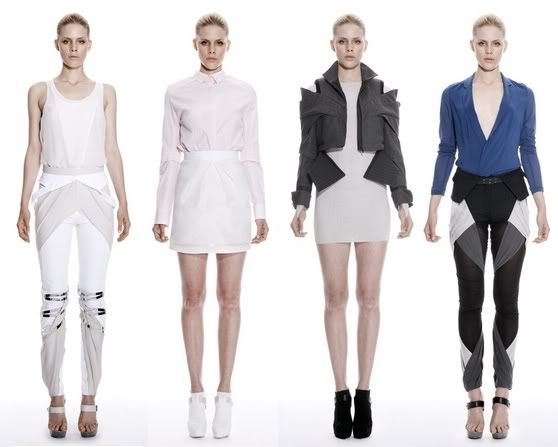 Saaralepokorpi.com,
NASA's Archives
, style.com, levitating girl photographed by
Sofia Ajram
, dionlee.com, others unknowns