Am I the only one in this world who did not realize that Gwen Stefani's
What you waiting for?
video was inspirated by Alice in Wonderland? AM I THE ONLY ONE? NO, DON'T TRY TO BE KIND, TELL ME THE TRUTH! AM I?! The White Rabbit, the Twins, the Mad Hatter, the Caterpillar, the Queen of Hearts and EVERYONE, EVERYWHERE... Okay, I have an excuse, just only a few days ago I've seen the 1951 Alice in Wonderland at the first time in my life (!). Maybe I won't hold it against my parents, such things can happen, even in the best houses. Our weekly-happy-moments were the Sunday 5 p.m. Disney-hours, I'll never forget. Those were the good old days, we appreciated the cartoons. Ah. Back to the subject. My heart's broking to say it but this sort of Alice-transcription by Gwen Stefani gives me a bigger satisfaction then the version of (otherwise beloved) Tim Burton. I know, I know kids, I'm crying, too. But I have to admit, the collaboration of Alice and Gwen is a totally correct work, as it were genious. And up to this day it's one of my most favourite videos of the popindustry. Plus the pretty cool outfits of Miss Stefani, the Galliano dress and the Harajuku girls. Big first. If you can't really remember, what I'm talkin about,
WATCH IT
.
Tényleg én vagyok az egyetlen a világon, akinek eddig nem esett le, hogy Gwen Stefani What you waiting for? klippjének képi világát az Alice Csodaországban inspirálta? ÉN VAGYOK AZ EGYETLEN? NE PRÓBÁLJATOK MEGKÍMÉLNI, MONDJÁTOK MEG! ÉN VAGYOK?! A Fehér Nyúl, az Ikrek, a Bolond Kalapos, a Hernyó, a Szív Királynő és MINDENKI, MINDENHOL... Jó, egyetlen mentségem van csupán, az 1951-es Alice Csodaországban mesét csupán néhány napja láttam életemben először (!). Talán azért ezt nem fogom felróni a szüleimnek, megesik az ilyesmi, még a legjobb családokban is. A mi heti-heppi-momentünk a vasárnap délután 5-kor kezdődő Disney-meseóra volt, sose feledem. Azok voltak a szép idők, mi megbecsültük a meséket. Na mindegy. Vissza a témához. A szívem majd meg hasad, hogy ezt kell mondanom, de ez a Gwen Stefani-féle Alice átirat számomra sokkal nagyobb kielégülést nyújt, mint (az egyébként szívemcsücske-státuszban leledző) Tim Burton verziója. Tudom, tudom gyerekek, sírok én is. De el kell ismerni, hogy Alice és Gwen kollaborálása teljesen korrekt munka, mondhatni, zseniális. A mai napig az egyik legkedvencebb darabom a popiparból. Nem beszélve Stefani kisasszony übercool outfitjeiről, a Galliano ruháról és a Harajuku lányokról. Csillagos ötös. Ha már nem emlékszel miről beszélek, LESD MEG.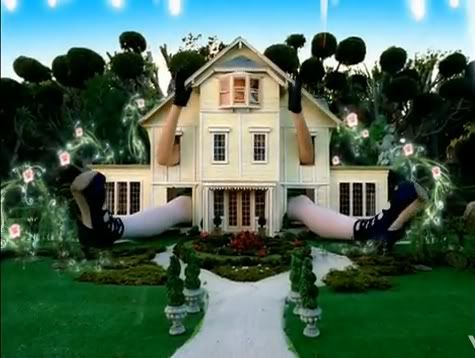 Alice
and video still from Gwen Stefani's
What you waiting for?