Black Forest cake by me, marzipan, champagne, Nikon, birthday. Not mine. My little brother told me that this photo is like a bloody showdown. Some "Z" category horror movie.
Feketeerdő torta általam, marcipán, pezsgő, Nikon, szülinap. Nem az enyém. Az öcsém azt mondta, olyan ez a kép, mint valami véres leszámolás. Valami "Zs" kategóriás horror.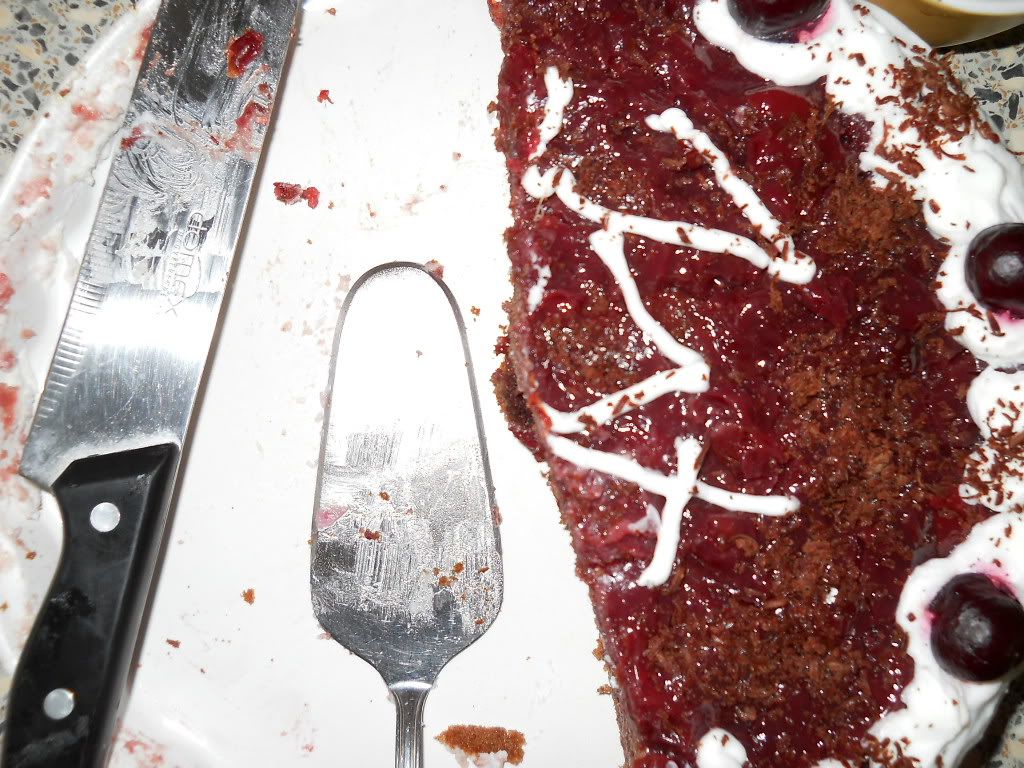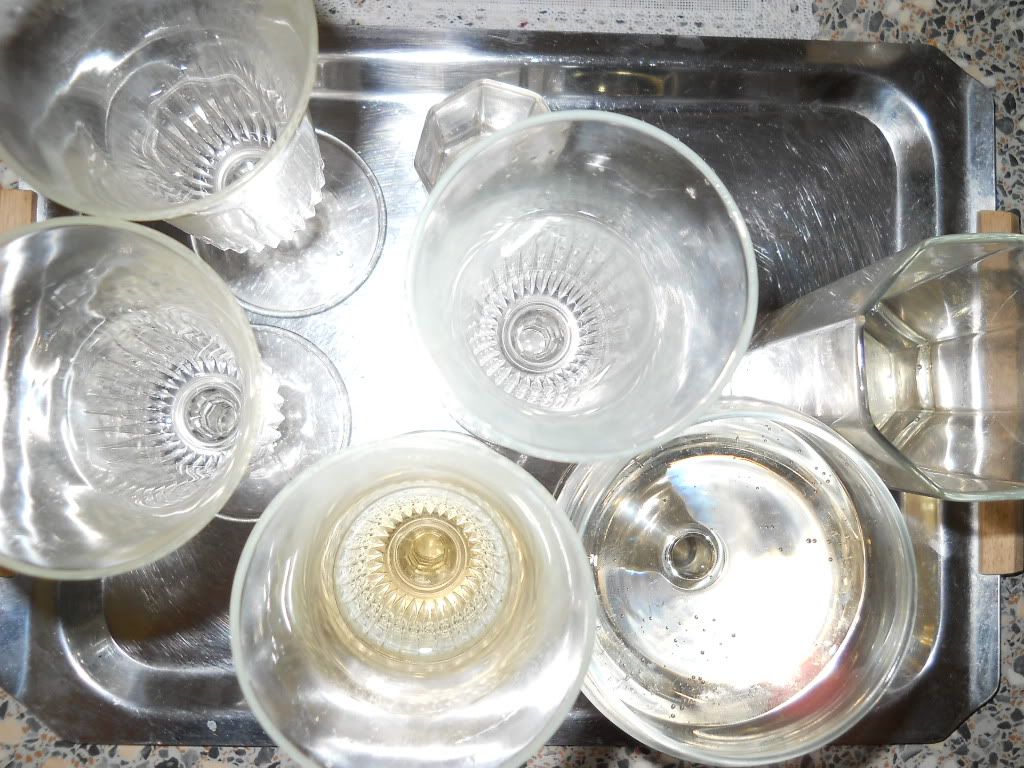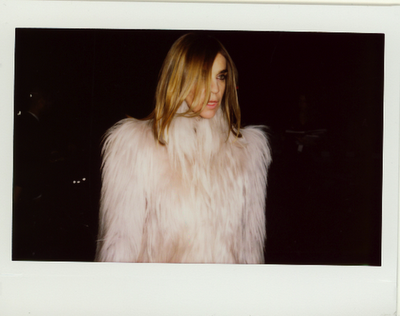 I've got a white false-fur coat and I wore that two times, it was rough. People are unused to a vision like this, yet in the capital city too, here in Hungary. Carine Roitfeld, the Editor-in-Chief for the French edition of
Vogue
is undeniably the queen of fur. God, I could hardly choose from the dozens of images where she wears fabulous fur coats. If once I have a fur like this I'd never take it off, neither on summer.
Van egy fehér bundám, kétszer volt rajtam eddig, elég durva is volt. Az emberek itt nincsenek hozzászokva efféle látványhoz, még a fővárosban sem. Carine Roitfeld, a francia Vogue főszerkesztője tagadhatatlanul a bunda királynője. Istenem, alig tudtam választani a tucatnyi kép közül, amiken mesésebbnél mesésebb bundákat visel. Ha egyszer lenne (lesz) egy ilyenem, soha nem venném le, még nyáron se.
A surprise. As I was maroon in the house and was clicking the photo mashine, I took a picture about my little brother's dinosaur. I like to taking photos about his toys, I don't know why. Then totally random I have found this coat. Zandra Rhodes'
Dinosaur Coat
from 1971.
Egy meglepetés. Ahogy a házban lődörögtem és kattogtattam, csináltam egy képet az öcsém dinójáról. Szeretem a játékait fotózni, nemtudom miért. Aztán teljesen véletlenül találtam erre a kabátra. Zandra Rhodes Dinoszaurusz Kabátja 1971-ből.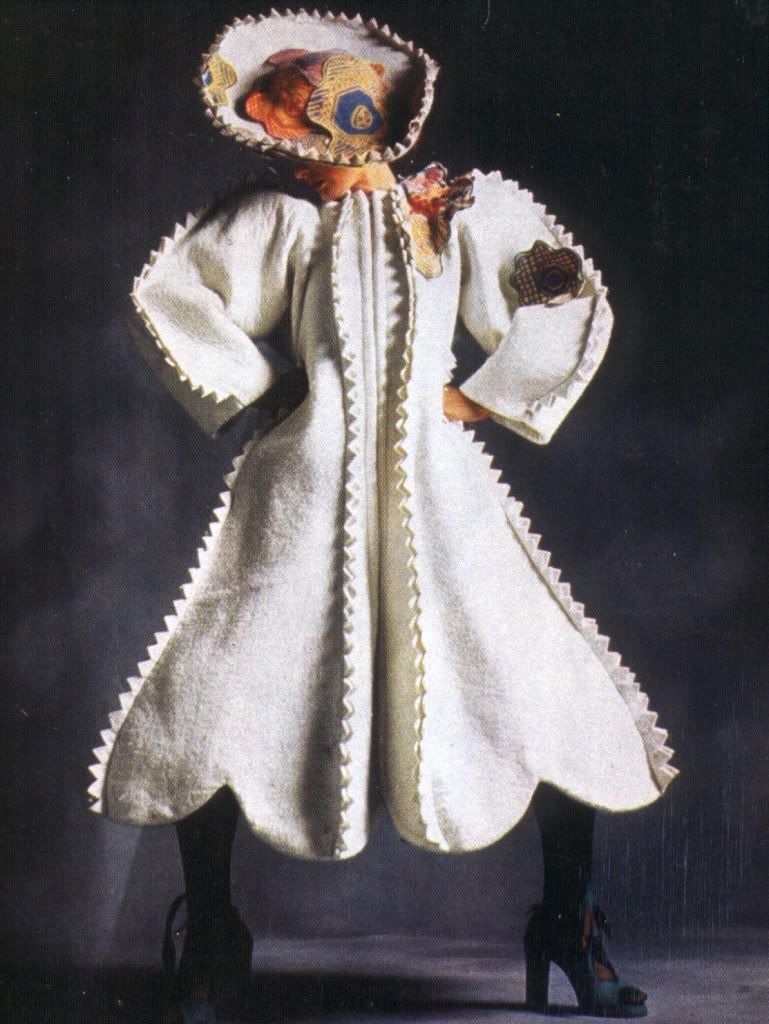 Dinosaurteeth scallop. It's good to to see that we do not have to take fashion so serious, may play, and Fred's
Dino
or a
childtoy
can be an inspiration too. I note here I want to thank You all who follow the blog and come back at times. Keep this good habit, let augment, opinions are welcome and appreciated, and I will answer to any question happily. Soon I return with empire stripes! Tschüss.
Dínófog cakkozás. Jó néha azt látni, hogy nem kell komolyan venni a divatot, lehet játszani, és Frédiék Dinoja vagy akár egy gyerekjáték is lehet inspiráció. Itt jegyezném meg, hogy köszönöm Nektek, akik figyelemmel követitek a blogot és vissza-visszatértek. Tartsátok meg jó szokásotokat, gyarapodjunk, minden véleményt szívesen fogadok, és minden kérésre boldogan válaszolok. Hamarosan birodalmi csíkokkal jelentkezem! Tschüss.