ATTENTION! THE FOLLOWING IMAGES MAY DISTURB YOU AND INSULT YOUR TASTE.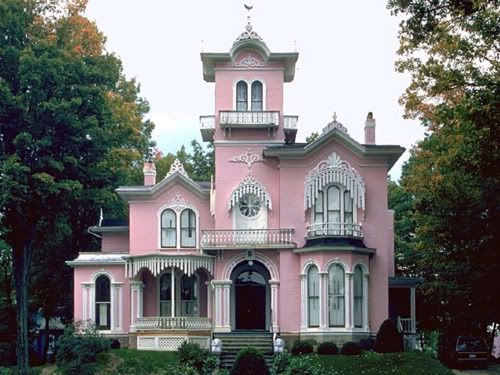 Vomit pink. Pink vomit. At the end of this post you'll feel it's coming up in your esophagus.
Actually pink is the color I don't really care for. I had a pink IKEA chair shunted to my brother's room, a pair of pink H&M thick tread shoes sold in my online shop, and a pink second-hand jumper given to my mother. That's all. So I totally run out of pink.
I had a
pink post
nine months ago,
The colour of Barbie
. Maybe I have to make one every year, D'oh!
Why?
No answer. There's something in this color I like, abstracted from clothing.
Compare the nine-months-old
pink post
, and this assemble. Do you see any differences? I do. I was more into
fashion
, more earth-bound, more narrow-minded. Now, I got differing ideas about pink and its availability. And I don't care about fashion anymore.
So should we convict pink and burn at the stake? (Recently I got a huge interest in medieval history, so allegories like this are expected frequently, cool, ain't it?)
Use
pink. Use it as a
bitch
, a saint, a baroque poet or Rei Kawakubo would. Do not fear of pink. It has some mighty power but in wearing there's a thin line between looking rad and looking like an idiot.
Vincent Gallo can wear pink, for example. Britney Spears can't.
You know, what's pink the best for? Background.
Are you colorblind enough?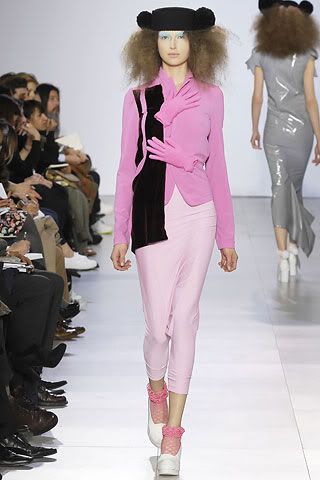 When I wake up
In my makeup
It's too early for that dress
Wilted and faded somewhere in
Hollywood
I'm glad I came here with your pound of flesh
No second billing, cause you're a star now
Oh, Cinderella they aren't sluts like you
Beautiful garbage, beautiful dresses
Can you stand up
Or will you just fall down?
Credits: unknown, Eyemazing magazine, unknown, song
Celebrity Skin
by Hole, unknown, Crystal Castles, album cover
This Island
by Le Tigre 2004, Comme des Garcons Fall 2007, unknown