Tina Chow. Google her. You know, I'm partial about everything that comes from the eighties, so Tina ain't an exeption. First I saw a picture of her in
Fashion: The 20th Century
by Francois Baudot with the text: "The most elegant woman of New York in the eighties, her 20th century garment collection is widely known." She's amazing. Simple, but recognizable. Wearing a white t-shirt and Kenzo trousers is more significant than being overly colourful or overcomplicated. Sometimes I'm tired of colours, tired of spare ingredients. I dress along this conception, more and more.
And here's a little private tittle-tattle via Wikipedia. We love you Wikipedia, the Aware of all things.
"Michael (her husband) and Tina Chow were among the most famous New York celebrities, making many friends among the Big Apple's art world, including Andy Warhol, Keith Haring, Jean-Michel Basquiat, Julian Schnabel, Mary Boone, and Henry Geldzahler. She was also a friend of Paloma Picasso and Manolo Blahnik. She was drawn by illustrator Antonio Lopez. During an estrangement from Chow, she had affairs with Richard Gere and a bisexual French fashion arbiter Kim d'Estainville. From d'Estainville, she contracted HIV, becoming one of the first heterosexual women to become infected with the disease that would eventually end her life."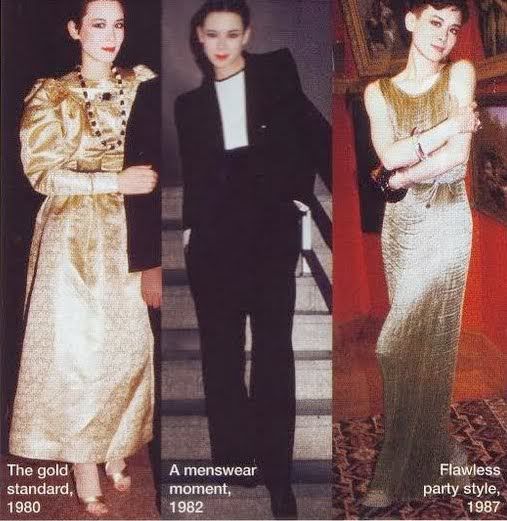 Credits: all images about Tina Chow.