A few months ago I had to make a trial-stylist work for a hungarian teen magazine. This was the "aptitude test". I've shown you
the other named Lolita
previously, and this is the second one. The conception what I have found out was how typical 80s clothes appear nowdays. It was rather a good fun than a serious work. Henceforward I don't think I care too much with celeb's style, of course never say never.
Pár hónapja kellett csinálnom néhány próba-stylist anyagot egy magyar tinimagazin számára. Ez volt az "alkalmassági teszt". Az elsőt Lolita címen már megmutattam, ez volt a másik. A koncepció, amit kitaláltam az volt, hogy a 80-as évekre jellemző darabok hogyan köszönnek mostanában vissza. Inkább egy jó móka volt ez, mintsem komoly munka. A továbbiakban nem hiszem, hogy túl sokat foglalkoznék a celebek stílusával, persze soha ne mondd hogy soha.
The style of the 80s riots again! Sit to the time machine and thumbing the fashionwhiz of the magazine what guides you into the home of retro!
A 80-as évek stílusa újra lázad! Ülj be az időgépbe, és forgasd a magazin divatkisokosát, ami elkalauzol a retro otthonába!
1
SPLATTERED MATERIALS |
FRÖCSKÖLT ANYAGOK
Like a dungarees...? No! The cavalcade of splattered colours zings up a party night or an ordinary weekday, too. But don't overdo to wear them, wear one splattered piece and couple it with unicolour clothes!
Akár egy munkaruha...? Nem! A fröcskölt színek kavalkádja nem csak egy bulis estét, de egy átlagos hétköznapot is feldob. Azért ne ess túlzásba, egyszerre csak egyet viselj belőle, és egyszínű ruhákkal párosítsd!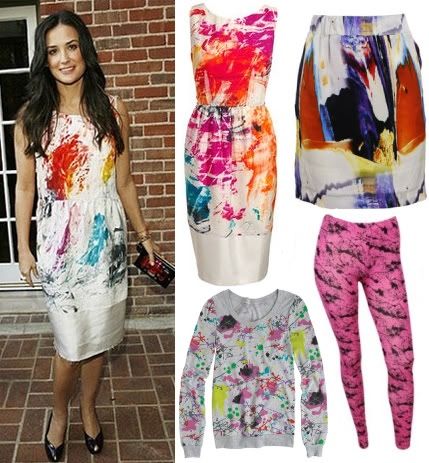 (Demi Moore)
2
PADDED SHOULDER |
KITÖMÖTT VÁLL
The huge shoulder pads are not moldy anymore. If you want to be really trendy, do not miss out the fatty shoulders!
A hatalmas válltömés többé nem ciki. Ha igazán trendi akarsz lenni, ne hagyd ki a pufi vállakat!
(Anne Hathaway)
You don't have to go to sky diving to garish in union suit. You can wear it to everywhere, in the daytime and in the evening it's super fashionable and comfortable turnout.
Nem kell ejtőernyőzni menned, hogy kezes-lábasban viríthass. Most hordhatod bárhova, napközben és este is kényelmes és szuper divatos ruhadarab.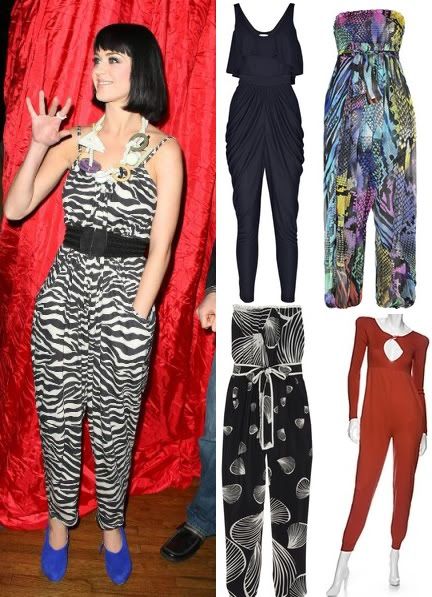 (Katy Perry)
4
STONEWASHED JEANS |
KŐMOSOTT FARMER
Jeans are eternal, it's undeniable. This year 80s stonewashed tight legged jeans are in fashion. The saying is true on jeans: the less is more. At the same time wear only one kinda jeans!
A farmer örök, ez tagadhatalan. Idén a 80-as évek kőmosott szűkszárú fazonjai hódítanak. A farmerre is igaz a mondás: a kevesebb több. Egyszerre csak egyféle farmer legyen rajtad!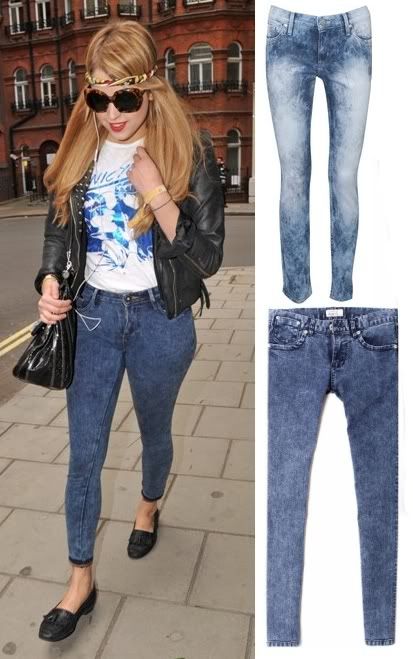 (Peaches Geldof)
5
BLACK CLOTHES & RELIGIOUS ACCESSORIES | F
EKETE RUHÁK & VALLÁSOS ÉKSZEREK
Yet, the black clothes and huge crosses are not only the properties of rocker and goth wardrobes. It's the time to get in a collection like this.
Már nem csak a rokker és goth ruhatár kellékei a fekete rucik és hatalmas keresztek. Itt az ideje, hogy Te is beszerezz egy ilyen szettet.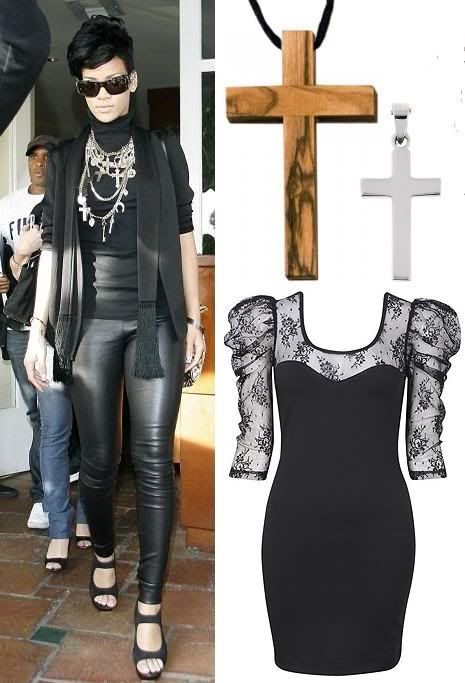 (Rihanna)
At least without flashing you can live through your sissy-age again. Buy a ruffled skirt which won't twirl but you're going to be sexy and chic, no doubt.
Végre pironkodás nélkül újraélheted kislánykorod. Vegyél Te is egy ilyen fodros szoknyát, ami pörögni ugyan nem fog, de garantáltan szexi és sikkes leszel benne.
(Diane Kruger)
(The credits for the clothes are missing, I know, because I could not search them back and formerly I didn't note them. Sorry for this.)
(A ruhák kreditációja sajnos elmaradt, mert nem tudtam visszakeresni, és annó meg nem jegyeztem fel őket. Ezért bocsánat.